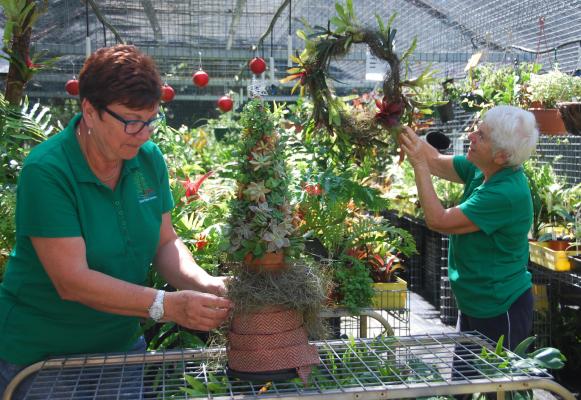 By Alan Lander
Not-for-profit group the Friends of Noosa Botanic Gardens are getting ready for their last public event in 2020, and they are giving you a chance to buy some truly original Christmas presents for friends and family.
Members of the team have created a range of Christmas-themed ornaments, wreaths and trees made from succulents which will be available at Saturday's plant sale starting at 7.30am in the Propagation Nursery at Noosa Botanic Gardens, Lake Macdonald Drive, Lake Macdonald.
"Due to ongoing covid restrictions, it's important for visitors to the sale to book an online appointment, at www.noosabotanicgardensfriends.com," Friends president Jill Brownlee said.
"You can shop for fun botanic gifts at the Friends' nursery. This is our last plant sale for the year and there are great bargains on indoor and sun-hardy plants."
As a special bonus, the botanic Shade Garden area will also be open to gardens visitors on Saturday morning from 9-12, with Friends on hand to guide you through.
If you haven't yet visited what is one of Noosa Shire's best-kept secrets, make a day of it at Noosa Botanic Gardens. You can picnic at the famous amphitheatre overlooking the lake – and dogs on leads are allowed.
All sale proceeds are ploughed back into maintaining and improving the gardens.