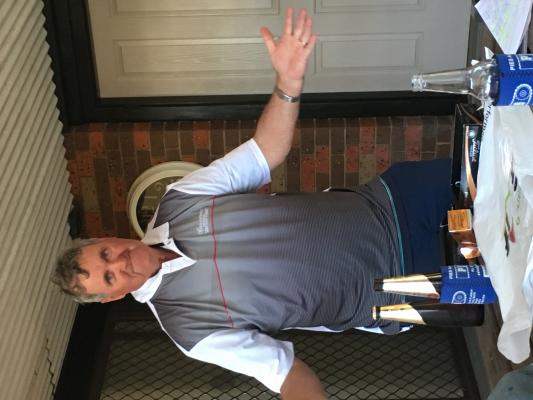 By Phil Jarratt
WHEN Mark Kelly sank a metre putt on the 18th hole at Cooroy last week for a par round of 70, his first thought was a forlorn hope that nobody would hear about his astonishing achievement – the first time he had parred a course in nearly 50 years of playing golf.
"I shouldn't have been there," he confessed. "I took a sickie from work."
But then he thought for a moment.
"Ah, what's it matter?" he said. "I'm retiring next month. What can they do?"
Kelly will retire on December 17 after 35 years in nursing – the last few years as head of Sunshine Coast University Hospital's $60 million simulation centre.
That is the place where undergraduates and post-graduates are put through their paces in simulated emergency situations – every conceivable circumstance medicos are likely to face treating patients from the cradle to the grave.
"It's important work and lots of fun," said Kelly. "And I can proudly say I've never lost a mannequin."
Before becoming a nurse Kelly tried his hand at several occupations – pulling beers in pubs, working in the mining industry, in a milk factory and, when he was 12, running an SP book at his school.
After nursing in Shepparton for eight years he moved to the Sunshine Coast and initially worked in Intensive Care at Nambour, before going into nursing education.He's always been a keen golfer and was once club champion at Tocumwal in southern NSW. He would also have won a B grade club championship at Horton Park 15 years ago, but was so excited after a brilliant final round that he forgot to sign his card.
He's been a member at Cooroy for the past few years, where his quick wit and sense of fun have won him a legion of new friends.
But last Wednesday's round, which gave him 42 points and a victory in A grade, was his first win in Veterans competition.
"I felt in complete control of my game – a very rare experience for me," he said. "I had four birdies and just played terrific."
Golfers seek to become champions
The Calvin Klein A, B and C Grade Championships – a 54-hole tournament for club golfers – begins today (ie November 27) at Noosa Springs.This year's championships have been affected by Covid-19 restrictions, but Noosa Springs' Golf Services Manager Warren Ellis said 164 players had registered, and had the capacity allowed it, many more would have played.
The event, held at the end of November each year, provides an opportunity to play one of Australia's finest golf courses and is open to amateur golfers who have a registered A, B or C grade handicap.
The 54-hole tournament is played from Friday to Sunday, with a presentation on Sunday afternoon.
Glenn takes centre stage
GLENN Sunderland and his brother Kerry are close. They grew up together in Sydney, their families holiday together, Kerry followed Glenn to retirement in Noosa, and they play golf together.
In 2012 they even combined to reach the finals of the NSW fourball championships together.
But on Saturday Glenn stood alone, as the winner of Noosa Springs' Stableford competition after returning an outstanding 42 points.
Not that Kerry was far behind – he scored a commendable 37 points.
"We're not competitive at all," Glenn said. "On the contrary, we're very supportive of each other."
Glenn put down his improved form to lessons he took with Noosa Springs teaching pro Peter Heiniger.
"He gave me some swing thoughts which I persevered with, and which eventually paid off," he said.
Generous golfers support All Abilities
Nearly 100 players took part in last week's All Abilities fund raising day at Cooroy, raising $3400 for the cause of introducing disabled Sunshine Coast people to the game of golf. That figure will swell when a raffle is drawn on December 14. All Abilities organiser Marc Bright said he was humbled by the generosity of Cooroy members.
Smith leaps into world top 30
Cameron Smith, who honed his golf skills on the Sunshine Coast's Invincibles Junior Tour, has risen to a world No 27 ranking after his runner-up finish at the US Masters.He is now the third-ranked Australian, with only Adam Scott (15) and Marc Leishman (26) ahead of him. It was a leap of 18 spots from No 45, although he had previously been as high as 24th in the world, soon after he won this year's Sony Open in Hawaii.
Although he became the first player in Masters history to shoot four rounds in the 60s, Smith was equal-second behind world No 1 Dustin Johnson in the Masters, five shots adrift.
"We had a few beers around the fire, really nice," Smith said after the tournament. "I spoke to Mum first. She was going on like I won the tournament. She was pretty happy. I spoke to my Nana, I spoke to the old man, just family and close friends.
Smith, 27, who is coached by Sunshine Coast-based Grant Field, has twice been in the mix in the Masters in the past three years. He finished inside the top five in 2018.
He will play only one more tournament this year. Smith and Marc Leishman will pair up for Greg Norman's Shark Shootout from December 10.
Degotardi contends in strong Tassie Amateur
Noosa Springs' Dino Degotardi played four consistent rounds to finish 15th in this week's Tasmanian Amateur Championships, an event dominated by visiting Queenslanders.
Degotardi (76, 71, 73, 72) finished eight over par 292, and would have done even better but for double bogeys on the 18th hole in the first and last rounds.
The 72-hole event, at Mowbray Golf Club, was won by Brookwater's Louis Dobbelaar (67, 65, 70, 71), who scored an eight-stroke victory from William Florimo, of Atherton. Queenslanders filled the first four positions.
Lindy plays her part
Noosa's Lindy Owen teamed with Maroochy River's Ngaire Kimball for a stunning win in the Maroochy River Ladies Invitational Day last week. The two players combined brilliantly for 51 points in the fourball stableford competition that teamed visiting players with a Maroochy River member.
Lindy, a Noosa member, was on the card only six times, but her contribution made all the difference. She birdied the par four second for four points, then birdied the 10th and parred the 11th for a total of nine points for those two holes.
New events on pro circuit
Australia's leading golfers are expected to kick-start their 2021 campaigns with a four-week Victorian swing that will feature two brand new events.The inaugural Players Series, hosted by former US Open champion Geoff Ogilvy, will be played at Rosebud from January 28, while the Moonah Links PGA Classic is scheduled for February 9.
The four-week stretch of golf forms part of a seven-event conclusion to the 2020/2021 Order of Merit and gives a host of the country's best players a chance to compete – something they have seldom been able to do during Covid-19.
Legends come to Noosa next month
Some of Australia's most experienced golfers, including Peter Senior, Peter Fowler and British Open runner-up Mike Harwood, will play in the Noosa Legends Pro-Am on Tuesday, December 8.
It is the start of the Legends Tour's Sunshine Coast swing, abbreviated this year due to Covid-19.
The visiting veterans will take on a strong local contingent, including Brad Burns, Glenn Joyner and Noosa's Mark Tickle and Simon Tooman.
The event, which will be played at Noosa Golf Club, will be followed by Legend pro-ams at Twin Waters (December 11) and Maroochy River (December 13).
Club competition
NOOSA
Tuesday, 17 November
Men's stableford: A grade – Grant Baker 40, Hugh Dolan 39c/b, Scott Olander 39c/b, Dallas Furner 39c/b; B grade – David Desiliets 41, John Henshall 39, Donald O'Donnell 37c/b, Ian Mort 37; C grade – Robert Paech 40, Maurice Farrell 39c/b, Brian Cooper 39, John Henry 38. Rundown to 35c/b.
Wednesday, 18 November
Men's 2-person ambrose: Alan Holley & Ross Cunningham 62.75, Keith Munday & Robert MacKenzie 64.75c/b, Michael Tsolakkis & Peter Balir 64.75. Rundown to 67.25c/b.
Thursday, 19 November
Women's stableford: A grade – Valerie Stevens 42, Orawan Millar 39, Rungratree Cox 38c/b; B grade – Rosemary Caffyn 41, Trish Berg 38, Evelyn Allan 37; C grade – Lynne Hancock 37, Adrienne Wild 36, Eugenie Mooney 35. Rundown to 35c/b.
NOOSA SPRINGS
Monday, 16 November
Men's Senior Medal, stroke: Joost Wamsteeker 68, Norman Larcombe 69, John Krimmer 71c/b. Women's Senior Medal, stroke: Gillian Maddern 68c/b, Dee Pugh 68, Marlo Douglass 70.Wednesday, 18 November
Men's stableford: John Chandler 40, Kerry Sunderland 39, Paul Liddy 37c/b; women's stableford: Narelle Magner 40, Tereza Holley 36, Karen O'Brien 35c/b.Saturday, 21 November
Men's stableford: Glenn Sunderland 42, Chris Wilson 40c/b, Jack Robertson 40; women's stableford: Mally Jane 40, Dianne Tonge 38, Birgit Wehrenberg 37c/b.
Sunday, 22 November
Men's Universal Property Sunday Series, stableford: Raffi Sekzenian 37, Peter Boland 35, Phil Harrison 32c/b; women's Sunday Series, stableford: Chrissy Hordern 37, Christine Young 35, Julia Caldwell 34.
COOROY
Tuesday, 17 November
Women's stableford (9 holes, secret 5): Kathy Butler 14, Weang Brown 13. Rundown to 9c/b.
Wednesday, 18 November
Vets' stableford: A grade – Mark Kelly 42, Bronco Price 40c/b, Terry Lyons 40; B grade – John Butler 44, Terry McCulloch 40c/b, Phil Mason 40; C grade – Wayne McKinnon 43, Brad Lavender 39, Kevin Pickford 37.
Thursday, 19 November
Women's stableford: Desley Walker 37c/b, Margie Lucas 37c/b. Rundown to 34.
Saturday, 21 November
Women's stableford: Wendy O'Hara 38c/b, Carolyn Foster 38.