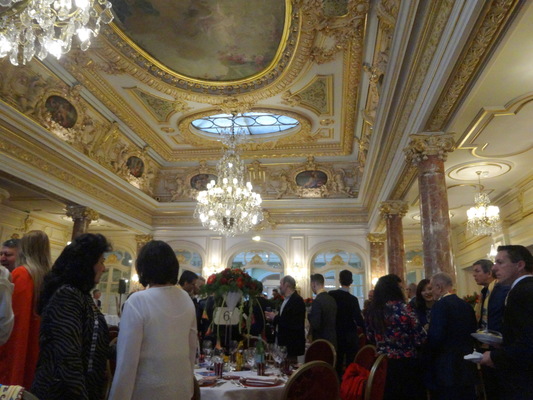 By Margaret Maccoll
The spectacle, glamour and extraordinary acts of the circus so gripped John Le Mare as a young boy in post WWII in England in the 1940s it left a fascination that continues today for the 82-year-old.His fascination with the circus is shared by his wife Angela and taken them on a journey rubbing shoulders with royalty and mixing with incredibly talented performers and exotic animals.
John realised how the circus brought together people of many nationalities, who had been at war, but could work together so creatively and harmoniously.
"I thought after school that's where I would work," he said.
The Tewantin couple started by visiting circuses and getting to know the people behind the Big Top, eventually gaining their trust and in the 1990s established a stationary box office to sell tickets to Australian's travelling circuses.
"We saw there was a need for it. While they were moving around they couldn't man a ticket office," Angela said. "We had a dedicated phone line for it. We found a lot of people wanted to buy tickets in the middle of the night."
The business which began with two circuses moved online and grew as more circuses came on board. As their acceptance increased among the often family-run businesses John's roles have expanded to include secretary and treasurer for the Circus Federation of Australia.
Australia has 10 travelling circuses as well as receiving visits from international circuses including Cirque De Soleil which has just announced its latest Australian tour in October titled Kurios.
In the early 2000s Prince Rainier of Monaco who was also fascinated by circus wanted to set up a World Circus Federation.
Unfortunately he passed away in 2005 before his dream was realised but the federation came to fruition in 2008 under the patronage of his daughter Princess Stephanie.
Until his retirement this year and with the blessing of the Australian circuses John took on the role of founding director representing Australasia for the World Circus Federation, which is based in Monte Carlo. He worked alongside fellow directors who represented Europe, South Africa, USA, Canada and Monaco.
His role involved representing circuses and circus interests including circus schools of which there are about 90 in Australia.
"We spend a lot of time advocating for circuses," John said.
Educating children of travelling artists to a country standard, workplace health and safety and the intangible world heritage of the circus were also issues under his concern as was animal welfare and animal husbandry.
John became an adviser to the Australian and state governments when it came to matters of circus animal welfare.
"The Australian Government, about 18 years ago decided to collect representatives from all bodies in Australia that used animals to get a standard of husbandry," he said.
John joined representatives from farming and rodeo operators to police and service dog organisations along with animal welfare organisations including the RSPCA and together they created booklets that are used as guides for animal husbandry. For the circus people it was the Welfare of Animals in Circuses booklet, which was published in 2003.
"It keeps them on their toes," he said.
"We were well represented from the circus by people who for generations have looked after animals.
"People who work with animals tend to love their animals. If the animals didn't they wouldn't be that cooperative. You have to have a good relationship with them."
While circuses in some countries overseas continue to have large numbers of animals those in Australia have come under a lot of criticism. A lot of unfair criticism, John said.
"There's a small feeling in the community that it's not an appropriate place for animals," he said.
Public protests, stricter laws and the costs of transporting animals have reduced the number and type, particularly exotic, of animals now in circuses.
Attitudes to the use of animals have changed over the years. In the 1970s for example the Bullens family who ran the Bullens African Lion Safari Park on the Gold Coast which opened in 1969 paraded their elephants down the main street of the city.
Living at their home in NSW with their animals one of the children one day took an elephant to school for show and tell, John said.
Historically a travelling circus provided the only opportunity for many people to see exotic animals.
Each year while a director John and Angela have attended an annual circus festival which brings together international acts to perform at Fontvieille, Monte Carol in a a permanently erected circus tent that lives between the residences of Princess Stephanie and her brother Prince Albert.
A world highlight of the circus world which takes place every year is the international festival created by Prince Rainier in the 1970's and occurs in January. This year was the forty-third International Monte Carlo Festival and the eleventh that John and Angela have attended.
John said the royal family were very involved in the operations of the circus federation and for the festival Princess Stephanie helps select the acts and attends rehearsals.
"We are continually amazed at the elaborate way the Russians look at circus," Angela said. "They spend massive amounts of money for costumes."
Over the years the couple have noticed the way acts have become more extreme and dangerous.
"People are doing more and more cutting edge acrobatics," Angela said.
While it looks dangerous safety is paramount and the artists work with safety harnesses and people known as spotters whose sole job is to watch the performers and break their fall should they slip.
"In 43 years there's only been one fatality in Monte Carlo," John said. "It was a motorcyclist during rehearsal."
John and Angela continue to be amazed by the extraordinary feats performed by circus performers around the world and their different styles.
Among the standouts are a Korean acrobat who has succeeded in performing five somersaults through the air and one member of the Wallenda family who once walked on a tightrope across the Grand Canyon from the US to Canada.
On arrival in Canada, customs asked his reason for travel. "To inspire the world," was his response.
"They're always trying to go one better," Angela said. "We just enjoy it."
John and Angela Le Mare continue to co-direct 365Tix which provides back office online ticketing services for nine major Australian travelling circuses and they attend circuses in Australia and across the world whenever they have the chance. Over the last few years, they have shared their experiences with U3A members and other people in the Noosa area and wowed them with the exploits of performers at the Monte Carlo Festival and other circuses.
The couple's influence has been instrumental in the delivery this year of the Australian Circus Festival to Brisbane for the first time.
The festival will bring together circuses across Australia under the Hudson Circus Big Top and be held in November-December at Mitchelton football ground.
For more information visit https://australiancircusfestival.ore/festival_2019