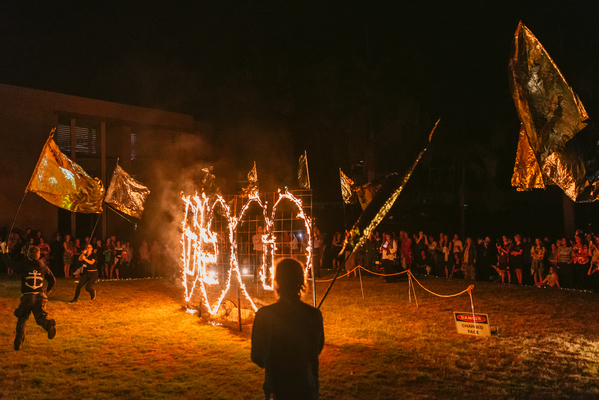 By Hollie Harris
After an outstanding program delighted Gympie residents and Michael Caton last year, the program for Heart of Gold, which runs from the 4-7th of October, had big shoes to fill. Yet again they have made a triumphant return, boasting a line up of 120+ short films that celebrate the human spirit.
Film lovers of all ages; from families, weekenders and students, will flock to the Gympie Civic Centre to watch the outstanding program of short films – 83 of them screening in Queensland for the first time!
Heart of Gold is the biggest short film festival in Queensland and is known for its unique mission and structure. Films screened at the festival are there because they have the ability to deeply resonate with the viewer in an inspiring, heart-warming or thought-provoking way.
This year, Heart of Gold moves into its second decade as a festival, and the Artistic Director, Emily Avila, shares that is has no plans in slowing down.
"This year's program continues to grow Heart of Gold's reputation for outstanding short films – we have the Queensland premieres of Cannes, Sundance and Berlinale winners, plus the Australian premiere of DreamWorks' animation Bilby", says Avila.
Everyday there is something different for audiences to experience. As usual, the festival opens with a party – an exciting selection of shorts, a fire ceremony and musical legends Hat Fitz and Cara. Friday hosts Irish Shorts, where hungry viewers can enjoy the famous Heart of Gold Irish stew beforehand, as well as Late Night Comedy, a raucous session that never disappoints.
Saturday is the best chance to meet the filmmakers behind these short films and help them celebrate with live music and high tea at the Awards Ceremony. Leonie Kingdom, a musician on the rise from Hervey Bay, will be returning to the festival to play at the ceremony.
Saturday will also host the feature film Backtrack Boys, a documentary sharing the true story of a legendary dog jumping team in Armidale, providing the space three boys need to turn their lives around.
On Sunday, the Backtrack team from the film will be hosting a dog jumping display for all the families and friends at the festival, along with a Q+A about the program. It is all part of the Family Day Sunday, which will include sessions of shorts especially curated for kids, as well as a range of interactive workshops and activities.
Highlights in the Sunday program include Bluey, a Queensland made animation from LUDO, which is set to fill lounge rooms with joy when it joins ABC Kids. A very special screening of Bilby, a DreamWorks's animation set in Australia that has its Australian Premiere at Heart of Gold will also be a highlight.
The energy at the festival will be truly electric; filled with eager audiences, as well as filmmakers from all around the world coming to this regional arts hub to celebrate their film's selection, and to meet the people who connect to their films.
Sensational events, inspiring guests, as well as a competitive program of quality short films, the 11th Heart of Gold Film Festival is not something you want to miss, so book now and prepare to be amazed.
When: 4 – 7 October 2018
Where: The Gympie Civic Centre, 32-34 Mellor Street, Gympie QLD 4570
Tickets: www.heartofgold.com.au