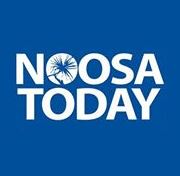 Noosa Today is excited to announce we will resume publication of a free weekly printed edition, starting next Thursday 4 June.
Noosa Today has been published in a digital format in recent times but we believe the time is right to return to a free printed product, as well as maintaining our free online news service.
A factor in our decision is the announcement today – Thursday 28 May – by News Corporation that it will cease printing some 100 publications in regional Australia, including Noosa News, converting them to digital-only outlets from late June.
We've decided to go the other way by returning to print, but for those readers who enjoy Noosa Today's content online that option will still be available – and will continue to be free with no paid subscription required. Our regular emails to readers with links to our latest stories and breaking news will also continue.
We're aware the Noosa region is facing enormous challenges from COVID-19 and these impacts will continue to be felt for some time, but we take the view we have a role to play in assisting the economic recovery from this crisis, including providing high-quality local news coverage.
We thank our readers and advertisers for their strong past support and we look forward to continuing to serve the Noosa region as a trusted source of local news – both in print and online.
Keep an eye out for more details of where you'll be able to pick up a FREE copy of Noosa Today in print from next week…
• For advertising enquiries please contact Phill Le Petit on 0439 377 525.