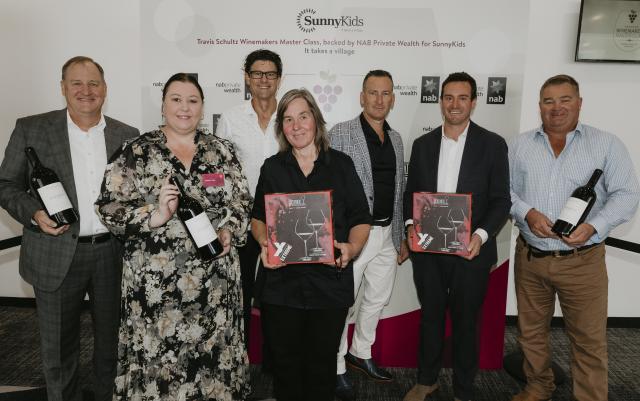 It wasn't just the wine. It wasn't just the food.
It was all that and more at the 10th annual Travis Schultz Winemakers Master Class for SunnyKids at Maroochydore.
With informative and entertaining discussion about wine, it was a record-breaking afternoon in which an astonishing $245,000 was raised in support of the Sunshine Coast charity for children at risk.
This year's total will enable the not-for-profit organisation to expand its crucial social programs such as SunnyKids in School and Mentoring Through Sports.
Event founder Travis Schultz said he could not be prouder of the generosity and community spirit demonstrated at Friday's event.
"If you'd told me 10 years ago my humble idea of a winemakers' fundraiser would reach such heights and result in nearly $1m in fundraising over that time, I would have been more than a little sceptical," Mr Schultz said.
"The generosity and community spirit I witnessed last night was truly humbling and I sincerely thank every one of our valued patrons who came with a mission to make our 10th lunch one for the record books," he said.
SunnyKids chief executive officer Kathleen Hope said the generosity of the Sunshine Coast community knew no bounds.
"To say my SunnyKids colleagues and I are grateful for the amazing fundraising efforts last night and over the course of the past decade, is the understatement of the year," Ms Hope said.
"As a not-for-profit organisation, we rely heavily on the support from our local community, and thanks to the long-lasting partnership we have had with this event, SunnyKids has been able to reach hundreds of children at risk of disengaging at school, expanding our programs into 10 local schools and supporting 600 individuals within families who needed it most," she said.
The Sunshine Coast community identifies up to 5000 at-risk children every year.
In response, SunnyKids provides thousands of nights of emergency accommodation, as well as domestic violence and referral counselling.
The charity partners with health, education and child protection agencies to keep kids safe.
Mr Schultz said the event had showcased wines from some of Australasia's best winemakers from regions such as the Barossa, Central Otago, Hunter Valley, Clare Valley, Margaret River, Mornington Peninsula, Orange and Yarra Valley regions, who all volunteer their time to take guests through a wine-paired, four-course degustation lunch.
"The support Australian winemakers have shown for our event over the past decade has been extraordinary and we are very proud to have had the opportunity to showcase their wines and learn from some of the leading winemakers the industry has to offer," Mr Schultz said.
"This year it was our honour to present industry icon, Reid Bosward, representing Kaesler Wines, Drew Tuckwell of Printhie Wines, Baroness of the Barossa Jane Ferrari representing Soul Growers, and Ben Portet from Dominique Portet Yarra Valley," he said.
"I must take this opportunity to thank our loyal and generous event partners, in particular our platinum presenting partner, NAB Private Wealth, and our talented event committee, without whom this event would not have evolved to become the enormous fundraising success it is today," Mr Schultz said.