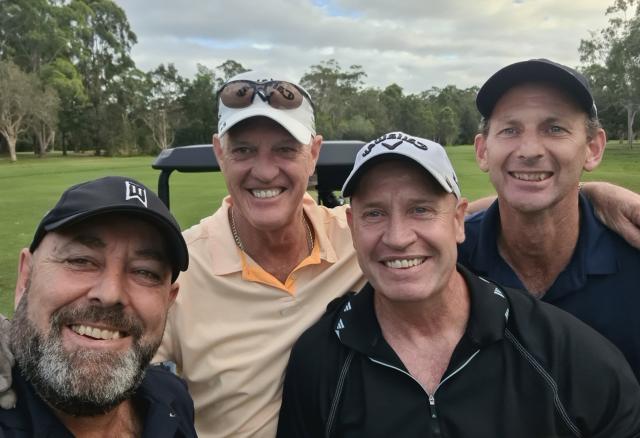 By Peter Owen
AFTER a 20-year career in the police force, the last thing Craig Strudwick imagined when he relocated to Noosa was that he'd continue to spend his life chasing pests.
These pests, though, aren't of the criminal variety. They're more likely mosquitoes, termites or cockroaches.
But, according to Craig, they can be just as elusive and create as much damage as the human kind.
Craig Strudwick had a much different lifestyle in mind when he quit his job as a policeman in Adelaide in 2005 and moved to Noosa.
"My wife Kylie had secured a job as a pharmacist and I saw myself as being a stay-at-home dad," he said. "I'd had a gutful of the police force and we wanted a complete change."
One of the first things he did was join what was then the Tewantin-Noosa Golf Club, and golf has been one of the constants in Craig's life ever since.
His dreams of a domestic lifestyle changed quickly when Craig bought a herb farm at Eumundi, and settled down to work the land.
Then, a friend associated with the South Pacific Resort at Noosaville mentioned that they were looking for somebody to take over the control of insects at the resort.
"I knew about spraying for pests through my work at the herb farm, so I said I'd give it a go," Craig said.
That was the beginning of Top House Services, which has become a thriving pest control business, where Craig is kept fully occupied.
Except for Tuesdays, of course. That's the one day of the week that Craig reserves for golf.
And at Noosa last Tuesday Craig showed his skill on a course, water-logged after days of rain, to shoot six-over-par and win the A grade prize with 39 stableford points.
He had played golf socially in Adelaide and was a battler at Noosa, with a handicap of 16, until he took his daughter Calais along for golf lessons.
As her game began to develop, Craig was motivated to improve his own.
Over time he reduced his handicap to eight, though pressure of work restricts the amount of time he can devote to golf.
"I used to play Friday afternoons with some mates, but these days I get out only on Tuesdays," he said.
With winter closing in, and the bugs taking time off, Craig's hopeful of finding more time over the next few months to devote to a game he loves.
"This is a great club with great people and I always look forward to Tuesdays," he said.
Grathan's group looks forward to hickory titles
COOROY trio Grathan Leatherbarrow, Jason Norris and Kaleb Hamilton are among the first golfers to enter this year's Australian Hickory Championships to be played in Brisbane in early September.
The championships, the highlight of the year's hickory golf calendar, will be played at Nudgee, Royal Queensland and Brisbane from September 11 to 13.
Grathan, a hickory fanatic who says he prefers playing with the traditional wooden clubs rather than standard golf equipment, hosts regular Thursday afternoon rounds of hickory golf at Cooroy – weather allowing.
In fact Cooroy was to have been the site of this year's Bobby Jones Trophy, a major Queensland hickory event, a fortnight ago.
"We had to call it off because of all the rain," Grathan said. "Hopefully it will be rescheduled for November."
An enthusiastic army of golfers – including an increasing number of young players – play regular monthly hickory events at Royal Queensland.
"It's a thrill to play golf just as it was intended to be played almost a century ago," Grathan said.
Herbert shines in tough PGA conditions
WITH birdies on the first and fourth holes of the final round, Lucas Herbert briefly looked a chance of contending in the final round of the US PGA Championship at Southern Hills this week.
But the 26-year-old, who is coached by Sunshine Coast-based Dom Azzopardi and is still an ambassador for the Peregian club, faded on the challenging back nine.
He had bogeys on 11, 12 and 14 and a double bogey on 16, when his second shot found the water, before finishing in style with birdies on the last two holes.
Herbert had rounds of 68, 73, 68 and 71 for an even par total of 280 and a tie for 13th place. The performance will ensure his place in next year's PGA Championship at Oak Hill Country Club in New York.
He matched Cameron Smith's score to share the honour of being the best-performed Australian.
Herbert hadn't played a tournament since missing the cut at his debut at the US Masters last month.
"I'd had three weeks off leading up to this event so I'm relatively fresh compared to the guys who have played more in the last couple of weeks," said Herbert, whose best finish in a major before this week was a tie for 31st at the 2020 US Open.
American Justin Thomas won the PGA in a three-hole playoff over Will Zalatoris.
Rain ruins another pennant weekend
AFTER two scheduled rounds of this year's junior pennant season, not a shot has been played.
The second round, featuring teams in Division 2 of the competition, was called off on Sunday after drenching weekend rain left Noosa Springs golf course saturated.
Division 1 play had already been postponed because a number of players were required to compete in schools competition in Townsville.
The season will now begin on Sunday at Tin Can Bay with Noosa taking on Maroochy River 1 in Division 1 and Noosa Springs up against Maroochy River 2. Noosa tackles Noosa Springs in Division 2.
Officials were meeting this week to consider options for the remainder of the season, including catching up on the first two washed out rounds.
Consistent Burns in the money
YANDINA'S Brad Burns shot matching rounds of 69 for a 36-hole total of four-under-par 138 to finish 6th in the two-day Mackay Pro-Am late last week.
Burns, who is keeping his hand in during a break in the Legends Tour, finished five strokes behind the winner, fellow Queenslander Brett Rankin.
Veteran Noosa professional Mark Tickle, with rounds of 76 and 73 was 23rd.
In the Pioneer Valley Pro-Am on Sunday, Burns continued his good form with a two-under 70, which was good enough for 12th place.
Cooroy vets find somewhere to play
COOROY'S course, drenched with more than 530mm of rain since the beginning of May, has been closed for a fortnight, but Cooroy veterans at least got a game last week when they travelled to Mt Coolum for the traditional Coo-Coo Shield clash.
A total of 88 players trudged their way around the course, many walking as carts were restricted to paths.
Cooroy's Mike Kent won the A grade competition with 40 points, with Mt Coolum's David Wright taking B grade, and Paul Jeckeln, of Mt Coolum, winning C grade with 42 points – the day's best score.
Mt Coolum took the Coo-Coo Shield by 60 shots, reversing the result of the previous encounter in February.
Sign up for fun at Noosa Springs
THERE is still time to register for Noosa Springs Skins Series event to be played on Wednesday, June 8. The fun, social event offers teams the chance to win four bottles of wine on each hole – that's 72 bottles all up.
It's a team stableford competition with the best three scores on each hole becoming the team score. If two or more teams tie, the wine prize jackpots to the next hole.
The $95 entry fee (for non-members) includes lunch and post-game nibbles. It's a shotgun start at 12 noon.
Club competitions
NOOSA
Tuesday, 17 May
Men's stableford: A grade – Craig Strudwick 39, Michael Pascoe 38c/b, Justin Smith 38c/b, Bruce Blakemore 38; B grade – John Curtiss 39, Anthony Jedynak 37, Robert Willink 36c/b, Michael Kerz 36; C grade – Rob Wade 37, Colin Dean 36, Kevin Richter 35c/b, Alfie Bartlett 35c/b.