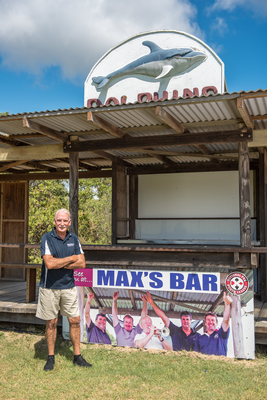 By Ron Lane
If one was to look for a great example of what a community can achieve when it stands together you need to look no further than the Noosa Dolphins Rugby Union Club.
Situated at 1 Bicentennial Drive, the club formed in 1984 has achieved a reputation that is due, not only to its achievements on the playing field, but, to the character and loyalty of its people. Its players, administrators, old boys and supporters are people of which other clubs would be envious.
One such person would have to be Life Member and former President Max Gunthorpe. For Max his record of service dedication and loyalty has been truly outstanding.
Born in Brisbane and educated at Darra and Corinda State Schools Max entered the work force in 1966 and started work as a carpenter. It was during this time that Max was introduced into the world of surf lifesaving when he joined the club at Greenmount on the Gold Coast, where he obtained his bronze medallion and Instructors Certificate. "Those were the good days, when surf clubs still had dormitories and we lived on the premises and looked after ourselves. Our club was located straight opposite the Queensland Hotel, commonly known as the Cabbage Patch, and a pot of beer cost an incredible 20 cents."
In Greenmount he became mates with the Cairns brothers, Russell and John who hailed from the Noosa district and a friendship that still exists today was started. As a result of this during his free weekends Max began to visit Noosa and he "loved the place." Then in 1971 with the Vietnam War raging, Max was conscripted into the army.
"I was one of the lucky ones," said Max. "We trained at Singleton and after that we were posted to 1 R.A.R. (Royal Australian Regiment) as infantrymen, based in Townsville. We were on the short list for Vietnam but Gough Whitlam was elected Prime Minister and he called the whole thing off and we were glad he did."
While in the army he got his first taste of rugby union and immediately fell in love with the game. However after discharge he went back to his job as a chippie and once again played rugby league, the game he played during his school days.
Then in 1973 along with two mates he made the big decision to travel through Europe (in a van) and Canada. "We were on the road for four years and it was a great experience." During their sojourn in Toronto Canada, where the boys worked as chippies, they continued to play rugby which they had played during their time in Europe.
"We spent twelve months in Toronto and while there joined the Nomads Rugby Club. This was the year of the Montreal Olympics, so there were lots of visitors, some of whom were top rugby boys; we formed a great team and won the local premership.It was," he added with an evil grin, "a great place for a young man."
Following this they entered the USA where they spent 12 months, mostly in California. "We lived in Newport and also Santa Monica. California was a great way of life; great music very casual and layback."
While in Santa Monica Max married Virginia, a lady who he met while travelling. After years on the road they returned to Brisbane and two years later shifted to Noosa, where they bought their first home for $48,000. "In those days in Noosa you could get a really nice house for $48 grand – a bit different to now."
Once settled in, he joined the Noosa Surf Club where he renewed his friendship with the Cairns brothers. "Apart from patrolling we all loved the surf boats so we ended up in a crew and rowed for the club with John Cairns as sweep. It was a great club, all good mates, with a get in and have a go attitude."
Then in the early 80s in the local newspaper there was an ad inviting people interested in the formation of a Rugby club, to attend a meeting which was to be held in a private residence. This was well attended and the next meeting was held in the bar of the Noosa Surf Club; a meeting which was to become, through the years part of the folk law of this great club.
Amongst those present was the late John Ford bar manager who was to become a legendry stalwart supporter. "This is where it all started," John would say, "nearly everything was on the agenda; would they go ahead with the project, who would do what and even the choice of club colors was discussed. After that it was full speed ahead."
"It was quite a meeting," Max said. "Apart from John and I there was also Dave Nicholson, Digger Munro, David Wythes, Brendan Ryan and a few others.
Then in 85 we formed a team, had a few trial games then had our first real hit out against Maroochydore: we were on our way. For training we used Reid Park in Tewantin and played our games on the Sunshine Beach Oval at the Primary School; then back to the surf club for a shower and a few beers. It was at this time that we took the same colors as the surf club –Maroon and White."
The future was looking good with men such as David Wythers, Dr Charles Elliot, (first President), David Nicholson and John Ford, (just to mention a few), the whole thing was gaining momentum. Also in 85 Max was appointed Vice President; his first of many years on the committee.
Then in 1987 Dolphins played their first grand finale; and it was against Maroochydore. "We played at Pirates Park but unfortunately we lost; but at least we hosted what was to become the party of the year.
For music we contacted Wiley Reid, an American blues singer. He arrived with his band plus his key board and as we had no stands we tipped a garbage can upside-down placed his keyboard on top. When he asked what we wanted, he was told soon as the final whistle blows you start the music. He did exactly that and boy what a night, definitely one to remember."
Away from the sporting life Max continued as a chippie and except for a short time, when he returned to Brisbane to find work during the recession ("we had to have") he started his own business.
Doing cottages, he employed subbies for electrical and plumbing work. "I contracted the Cairns brothers for the electrical and another surf club mate Barry Postle (who from the year 2000 was also to become a Dolphin stalwart) for the plumbing."
Also during that time Max and Virginia became the proud parents of two children Natalie and Ryan, both born at the Cooroy Hospital. Down through the years Max contributed to the community with building projects thus providing work for many local subbies.
As a player the year to remember was 1988: playing at Pirate Park against Maroochydore they won their first A grade Grand Final, plus the Reserve Grade, of which Max was a member. Head coach for that season was Ron Rae and for Max his playing career would extend over a period of six years.
With his years as a player, coach, committee member (three as Vice President Five as President) and now senior fund raiser, Max has been part of and witness to many great achievements and changes.
But perhaps his happiest achievement was visiting Corbould Park Race Track in Caloundra 16 years ago, for it was here that he picked the best win of his life when he met a lady named Heather. After a cordial separation from Vivian he was again a free man and after a time they married and are now, "happily married and supportive of each other."
Other achievments have included building and opening a new clubhouse (1990-91), being elected President (1999-2004), the first ever Dolphins Long Lunch in 2004 ( which became an annual affair), hosting the British Lions visit to Noosa for training camps (2013) and the advancement and consolidation of junior boys and ladies teams.
"But one thing in which I take great pride is our Grand Final wins; since 1988 16 premierships in 30 years. To achieve great things it depends on people; people like long serving vice-president Trevor Luff, designer of our present and future clubhouse Maurice Hurst, junior president Rob Frey, manager Kerin Kearny, great coaches, administrators and support groups – just too many to name.
In 34 years we have come from existing on a bag full of jerseys to our present situation. This has been achieved by good people working at all levels of club life. At times it has been tough going but I wouldn't change it for the world."
Speaking on behalf of the club, President Donald McKill said, "Max Gunthorpe Life Member and Past President, has been a stalwart for many, many years, as a player, coach and committee man. He is now involved as a major fund raiser with the Droopy Dolphins (the Old Boys); he has been an outstanding and long serving member. We wish him well." Maxie Gunthorpe, proudly- one of Our People.