Journalist, author and top surf historian Phil Jarratt has come a long way since he was a Daily Telegraph copy boy in the late...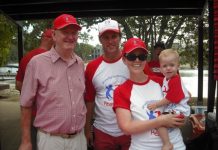 Terry Mooney, Campbell and Lisa Ellis and Leo the Lionheart Ellis WORDS & PICTURES: JIM FAGANLittle Leo Ellis, mum and dad, Lisa and...
Not only is their logo green but the staff are, too! Bike racks at the council offices are once again...
It's always great to know your kids are off to a good start and that's certainly the case at Noosaville State School, where Principal...
Noosa-based Jally Entertainment is about to hit the road with the outrageous comedy Calendar Girls - travelling through five Australian states with 56 performances...
ISOBEL COLEMANNoosa is doing a great job – and that's official. During a flying visit on Tuesday morning, Local Government Minister...
PHIL JARRATTThe Poms are lurking in Coolum and Byron Bay, waiting for the swell to come up, but the first official international arrival in...
JIM FAGAN Long-time West Cooroy farmer David Milligan has asked Noosa Council for time to supply additional information about his application to establish a...
JIM FAGANScanlon Property Group will be ready to open its revised Peregian Village Market at Peregian Beach mid-next year if Noosa Council approves its...
JOLENE OGLECouncillor Sandy Bolton has labelled the name of the Federal Government's Work for the Dole scheme "demeaning" and "embarrassing". Originally...
ISOBEL COLEMANThe biggest killer of young drivers is speeding and around 80 per cent of those killed are male. This...
JOLENE OGLENoosa Councillor Sandy Bolton wants to know what you think about hot, local topics. Cr Bolton said the "community needs...