Noosa Arts Theatre launched its spectacular raffle at the Sunshine Coast Theatre Alliance soiree on Saturday night. The theatre has...
ISOBEL COLEMAN AND JIM FAGANA question mark hangs over Council's stance on Coles' proposed Noosa Junction development application after local traders came out in...
ISOBEL COLEMANLocal retailers and tourism providers have barely taken a breath since the school holidays ended but there's more good news on the way....
Lake Weyba residents were celebrating this week after the Sunshine Coast Council voted to refuse the part of the controversial Noosa on Weyba development...
PHIL JARRATTDave Power, who died in Noosa last weekend at 85, won Olympic and Commonwealth medals for Australia as a distance runner, plus numerous...
ISOBEL COLEMANCooroy local Sue Stanley - named Volunteer of the Year at Friday's Sunshine Coast Sports Star of the Year Awards – says she...
JIM FAGANNoosa Council is expected to approve a free holiday bus shuttle service during Easter (April 14 to April 21) at its meeting tonight....
JIM FAGANWith too many lawn bowls clubs shutting their doors, a frustrated Bob King has told Bowls Australia and Bowls Queensland leaders that bowls...
If you have some big ideas on the future of Noosa and our Biosphere Reserve, the new Noosa Council wants to hear from you....
JOLENE OGLEThe iconic Country Life Hotel, proudly standing at the entrance of Kin Kin, will celebrate 100 years this weekend. To mark this special...
RON LANEFor Steve Mawby, organiser of the Noosa Special Nippers - now known as the Seahorses - Saturday afternoon in the radio tower on...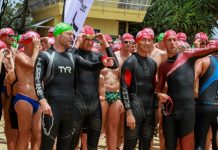 PICTURES BY LEAH COHEN Swimmers, including dual international Mat Rogers, line up James Tobin and Peter Kuruvita ...