Want to find out what's happening in your community? Looking for a new hobby or group to join? Keen to help others?...
The general manager of Palmer Coolum Resort, Simon Stodart, has defended the Sunshine Coast property, saying much of the negative publicity it has been...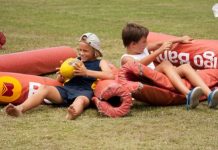 Pictures by Tessa Mapstone
ISOBEL COLEMAN "Nothing short of spectacular" is how Peter Thynne described the response to the Noosa Tigers recently launched promotional campaign. ...
JIM FAGAN Tewantin bowlers are taking their sport to Noosa's schools and they have $8000 from Queensland Bowls to help them do it. ...
JIM FAGANNoosa Council has rejected Coles' development proposal for the bowls club site at Noosa Junction, one councillor, Tony Wellington describing the plan as...
Local environmentalists have collected nearly 800 signatures on a petition, demanding action on climate change. Sunshine Coast Environment Council (SCEC) spokesperson...
JOLENE OGLE"Ideas are where revolutions start." That was the message from Noosa Mayor Noel Playford when he addressed the local business community at the...
JIM FAGANNoosa has opened its heart to little Leo the Lionheart Ellis and the efforts by his mum and dad, Lisa and Campbell, to...
JOLENE OGLEA Sunshine Coast father of two pleaded guilty to dangerous driving and wilful damage in Noosa Magistrates Court on Tuesday. ...
Waste watcher and Noosa Councillor Joe Jurisevic has welcomed the return of bulk rubbish kerbside collections to Noosa. Noosa Council's infrastructure...
If you have an energetic pre-schooler then this is for you! Noosa Leisure Centre's Jump Bunch program helps develop your child's...