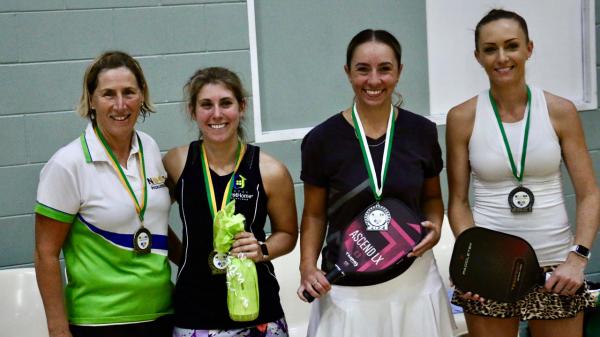 Noosa Pickleball Club held the Noosa Doubles Classic Pickleball Tournament on Sunday 30 May.
While the club is small in numbers it holds many winner and runners-up medals over a number of skill and age-related events in Queensland and New South Wales.
If you're interested to learn pickleball come along to the Noosa Leisure Centre Thursdays 6-8PM or Sunday Mornings. Check the Noosa Leisure Centre website for times.
Many local and out of town players arrived early on Saturday and attended a warm-up session at Noosa Tennis Club with BBQ and drinks.
Tournament play was hosted at the Noosa Leisure Centre by the Noosa Pickleball Club. There were 126 players with skill levels from Australian Champions to new players of a few months.
Results:
Mixed Open Advanced
– Winner: Sarah Burr and Martin Clark
– Runner Up: Debbie Rossi and Sueme Rajpal
Mixed 50+ 3.5+ (Advanced)
– Winner: Vicki Crawford and Randal Hunt
-. Runner Up: Gail Aiken and Ron Gatliff
Mixed 50+ 2.5-3.5 (Intermediate)
– Winner: Carolyn Bates and Peter Deacon
– Runners Up: Kellie Nichols and Peter Nicholls
Mixed Under 50 2.5-3.5 (Intermediate)
– Winner: Robyn Hungerford and Ryan Gunthorpe
– Runners Up: Jackie Kearney and Ben Kearney
Women's 3.5+ (Advanced)
– Winner: Glenice Ault and Debbi Rossi
– Runners Up: Sarah Burr and Abby Butterfield
Women's 2.5-3.5 (Intermediate)
– Winner: Ev Allan and Gail Aiken
– Runner Up: Anh Huynh and Cath Griffin
Men's 3.5+ (Advanced)
– Winner: Brendan Lee and Taylor Smith
– Runners Up: Sueme Rajpal and Bruce Winther
Men's 2.5-3.5 (Intermediate)
– Winner: Peter Eustace and Rohan Carroll
– Runners Up: Ben Kearney and Danny Papo
Congratulations to winners and well done to all who attended.
The event was supported by many Noosa Businesses who provided prizes for the raffle:
Noosa Springs Golf and Spa Resort, Day Spa Noosa, From Noosaville Village: Woolworths, Livelife Pharmacy, Noosa Village Newsagents. From Restaurants and business in Noosa/Noosaville: Esco Cafe and Restaurant, Riverside by the Good Place, Double Shot Cafe, Jimmy Fox Cafe, Village Bicycle, Repco, Super Cheap Auto, Toyworld, Intersport, Officeworks Noosaville, Fabulous on the River, the Noosa Pickleball Academy and John Pearson (local artist).