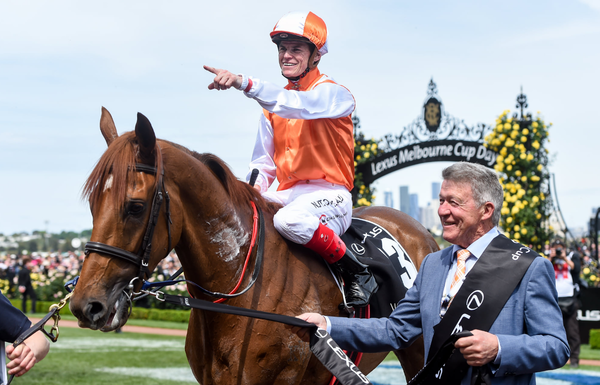 By Garry Howe and Russell Bennett
In what looms as a history-making Spring Racing Carnival, last year's Lexus Melbourne Cup champion, the Noosa and Gympie part-owned Vow And Declare, is among those to nominate for a crack at the 2020 crown.
Nominations closed for both of Australia's premier staying races – the Melbourne Cup and the Stella Artois Caulfield Cup – late last week, with the entry numbers for both up on last year, despite Victoria's battle with the Covid-19 pandemic.
This year Vow And Declare, the Danny O'Brien-trained stayer, will have to overcome not only a crack field, but also the pandemic, in order to become just the fifth horse in history to back-to-back in "the race that stops the nation".
Champion hoop Craig Williams famously piloted Vow And Declare to victory in last year's race – his first victory in the Cup in his 15th attempt.
O'Brien has a number of high-profile runners vying for both cups this year, including Vow And Declare – which was also the runner-up in the Caulfield Cup last year.
This year, the Caulfield Cup has attracted 177 nominations (up from 143 last year), and the Melbourne Cup 174 nominations (up from 152).
Meanwhile, O'Brien took out his first Fred Hoysted Medal, Victoria's premier award for trainers, at the virtual broadcast of the 2020 Victorian Racing Awards last Wednesday.
He produced a string of stellar training performances throughout the season, including Russian Camelot (SA Derby) and Miami Bound (VRC Oaks) – in addition to Vow And Declare's Melbourne Cup win and Caulfield Cup placing.
O'Brien amassed 100 winners at a strike rate of 17.7 per cent, up from 62 winners at 15.5 per cent last season.
His behind-the-scenes social media content – documenting the campaigns of runners including Vow And Declare – won particular praise from the judging panel.
It's also been an action-packed few days for Williams, who ran third to Damien Oliver in this year's Scobie Breasley Medal – for Victoria's premier jockey.
This year's medal marked Oliver's 11th Scobie Breasley, while Williams has also claimed the award five times before.
Oliver claimed the 2020 award with 61 votes – 10 clear of Dwayne Dunn (51), with Williams (43 votes) rounding out the places.
Williams held off Oliver to win his ninth Metropolitan Jockeys' Premiership, with 70 winners for the season. It marked the fifth straight year Williams took home the Roy Higgins Medal.
In summing up the nomination numbers for this year's premier races of the carnival, Greg Carpenter, Racing Victoria's (RV) executive general manager of racing, said in a statement: "We were unsure as to the number of nominations that would be received this year given the impacts of the Covid-19 pandemic so we're delighted to see an increase in entries for both the Stella Artois Caulfield Cup and Lexus Melbourne Cup.
"It is pleasing that there is tremendous depth among the entries for both races with 29 Group 1 winners in the Caulfield Cup and 25 in the Melbourne Cup.
"There's also lots of really interesting stories among the entries for racing fans and punters to follow from afar as we begin the countdown to both races in these unprecedented times.
"It's fantastic to see the defending Melbourne Cup champion Vow And Declare among this year's entries, and there is no question that Danny O'Brien holds an incredibly strong hand as he plots a pathway to both cups.
"The number of internationally-trained entries is higher than expected in the circumstances, due largely to the tremendous interest from Aidan and Joseph O'Brien who have an impressive list of entries in the Caulfield and Melbourne Cups."
Carpenter said RV is planning to welcome up to 16 international horses on one-way tickets to Melbourne at the end of this month, with a provision for up to 16 on two-way tickets to join them on the same shipment from Europe.
"We have this week received travel exemptions from the Government for a limited number of staff from six international stables to enter Australia and care for their horses during the Spring Racing Carnival," he said.
"However there remains a number of logistical challenges around flights and mandatory quarantine to overcome before that can become a reality."
Vow And Declare flew the Australian flag last year as the only locally-bred horse in the field, and also had solely local owners, trainer, and jockey.
"I spoke to a lot of racing people afterwards and they said it brought back a lot of interest in the Cup – that it's not just a race for the internationals," part-owner Bob Leitch told Noosa Today in recent weeks.
"It shows that the average Joe Blow can invest in a horse and still win the Melbourne Cup."
For some of Vow and Declare's 13 owners, it marked their first foray into racehorse ownership – including Leitch.
By US sire Declaration of War out of Geblitzt, Vow And Declare was bred by Noosa businessman Paul Lanskey, who after unsuccessfully trying to offload him at the sales, hawked him around to friends and family.
Among those to take up the offer was his nephew, Gympie State High School principal Anthony Lanskey, who also got his two sons, Lachi and Ben, into the ownership.
Anthony is the president of Australian Schoolboys Rugby League and had spoken to a couple of great mates also tied up with the schoolboys about one day getting into a horse.
They were Leitch, his colleague at Gympie State High and the former deputy mayor, and Kort Goodman – principal of Assumption College in Warwick.
Goodman and Leitch are former schoolboys team-mates and Lanskey was team manager of a side Leitch coached.
Leitch was turning 50 around the time the shares were being hawked around and his wife Correne asked him what he wanted for his birthday.
He says the subsequent share in Vow And Declare is the gift that keeps on giving.
They realise how fortunate they were to share one of Australian sport's greatest prizes – and one that has eluded so many icons of the sport over the years.
Take Williams as an example.
He grew up in a racing family – his grandfather and father were both trainers of note, and he'd ridden over 50 Group 1 winners all over the world, but his Holy Grail – the Melbourne Cup – had eluded him until last year.
To go back-to-back would rank Vow And Declare alongside the Cup's first winner Archer (1861-62), Rain Lover (1968-69), Think Big (1974-75), and Makybe Diva (2003-05) as the only horses to achieve that feat.