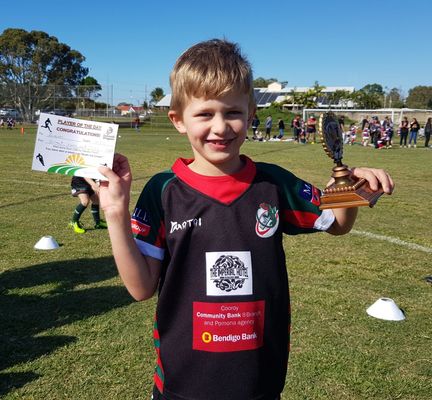 U 10 Match Report by Team manager Pamela Campbell-Jones
Dragons took on an impressive Noosa team at Brothers this weekend. It was a fast game and both teams were working hard.
The forwards had been working hard on their scrums and it showed again this week. Our boys have some lessons to take from the game and they will continue to improve.
Standout for the game, all over the field and into everything, was Max who was awarded Man of the Match, and Tom was awarded Most Improved Player.
It was a pleasure to play Noosa, and they deserved their win.
U7's match Report by Team Manager Jero Mansell
The Dragons U7's had two great games against Noosa and Saints on Saturday at the Brothers ground at Kawana. The team showed excellent improvement in passing through both games. The coach implemented more structure into the team which improved the passing and resulted in really good participation across the whole team. A standout performance from Zach Eaton in running on attack and in defence and some good passing earned him player of the week. Special thanks to our helpers from the U6's, we couldn't do it without you.