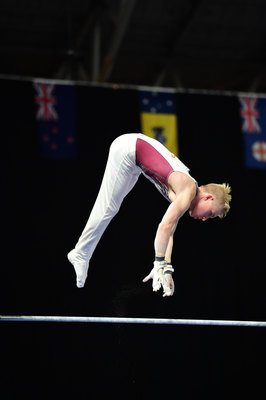 Two gymnast from the Cooroy Gymnastics Club impressed when they competed recently at the 2019 Australian Gymnastics Championships in Melbourne.
Having trained under head coach Jeff Ferrer gymnasts Dean Chandler and Finlay Jones worked hard to prepare for the event in their preferred apparatus of pommel and vault for Dean and Finlay focusing on rings, parallel bars and the all around award.
The duo travelled with the eight-member Queensland team who came from five clubs to the event which featured almost 1500 of Australia's best gymnasts over the six gymnastics disciplines, including artistic gymnastics, trampoline, acrobatics and aerobics.
The first day of competition was tough for the Cooroy competitors who had falls on apparatus.
Both gymnasts fell twice on pommel and Finlay fell again on one of his best events, the parallel bars.
The Queensland team was victorious in the event on the first day with the best three scores from the team on each apparatus.
Taking full point deductions for falls on the first day the Cooroy boys all around score was below their expectations, with Dean 21st and Finlay 10th.
But the second day offered a chance to come back.
Starting on rings the boys put in a solid day of competition with Finlay putting in a rings routine that couldn't be matched.
Both boys impressed, improving scores over the previous day and lifting on almost all apparatus. Finlay put in a solid performance on parallel bars winning silver. Dean had an almost flawless pommel routine before clipping his feet near the end finishing 4th. Finlay improved his pommel by staying on to finish 3rd.
Dean lifted his all around position to 18th place and Finlay improved 5.2 points from the first day to win the all around title.
Results:
Finlay Jones: 1st All Around, 1st Rings, 2nd Parallel Bars, 3rd Pommel
Dean Chandler 4th Pommel