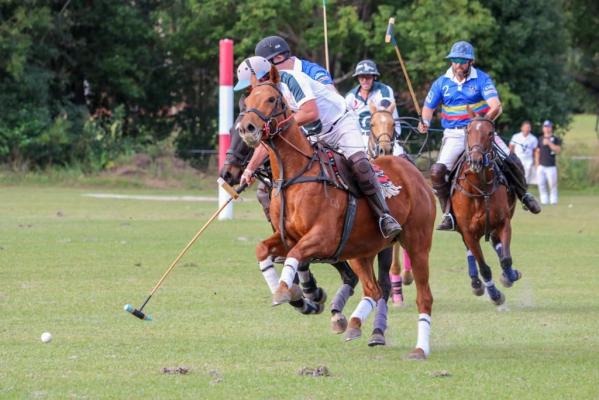 Noosa Country Polo recently hosted the Dowling Cup which has been continuously in competition for more than 70 years on the Sunshine Coast.
Noosa Country Polo president Niall Coburn said it was a wonderful community event.
"We were extremely fortunate to avoid the rain and spectators enjoyed the day with picnics from their car boots watching the polo, sharing the moment with friends, family and work colleagues," Mr Coburn said.
"There were eight polo teams, including two teams from Victoria, Venture Polo, Brisbane, and the Sunshine Coast.
"The event was sponsored by Countryside Realty Noosa, GMG Steel, Colliers and Eighty20 Partners, for which we are very grateful."
Niall and Illy Coburn, who are the owners and hosts of the event, were assisted by Lauchie Leishman, the organiser, who also played in the final for Countryside Realty Noosa. The standard of polo was high with professional players in each team and the final coming down to a game between Colliers and Countryside Realty Noosa teams, who battled it out for an hour with Colliers eventually winning by only one and a half goals, taking the Dowling Cup to Brisbane.
There was also an award for the most improved polo player that went to Billy Taylor, who played with Jeremy Brown and Inge Burke in the Noosa Country Polo team.
Playing on the day was Robbie Ballard, who was in the team which won the Australian Open last year and Simon Hill, a professional who played for Kerry Packer and now coaches and teaches at Noosa Country Polo.
The Noosa Country Polo was founded three years ago by Niall and Eileen, and is located at Tunba Court, off Cooroy Mountain Road in Noosa Shire.
The club is a member of the Queensland Polo Association and the Australian Polo Federation.
The property forms part of the original Dath Henderson dairy farm that has some historic significance in the region having one of the original dairy milking sheds dating back to the 1930s.
The club offers polo lessons, polo clinics and chukkas on most Saturdays at 2pm during the season – March to October – subject to weather conditions or matches away in tournaments.
The next polo event coming up is on Sunday 3 October, which is known as the Noosa Cup and is expected to be a fantastic event where people can look their finest and bring their friends and family to a spectacular Polo Open.
Tickets will be on sale soon, with premium corporate hospitality marquees, peggy square exclusive lawn enclosure and live entertainment.
For more information visit noosacountrypolo.com