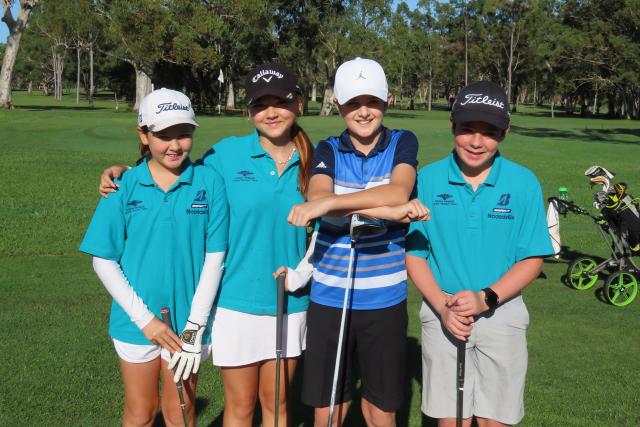 By Peter Owen
John Curtiss says it was an injury playing Aussie Rules football in Melbourne that made him a golfer. And retiring to Noosa, he believes, made him a better one.
Like most young blokes growing up in Melbourne, John played footy on Saturdays – until he suffered a painful bulging disc in his lower back.
"When I could no longer play football I turned to golf," he said.
"Somehow swinging a golf club didn't seem to bother my back."
John was very much a social golfer in those days, getting out with his mates for a hit once a month or so.
It wasn't until he moved to Noosa in 1999 that he started playing more regularly, initially at the Noosa par three course. Later he joined Tewantin Noosa – near where he'd settled – got a handicap, practiced a little and started to play the game more seriously.
"It was the outdoor lifestyle that attracted us to the Sunshine Coast," John said.
"We had three young kids and figured this was a great place to bring them up.
"It's a decision we've never regretted."
Though he says he still doesn't take golf all that seriously, his game is certainly trending in the right direction.
Three weeks ago, John scored 39 points to win Noosa's Tuesday Club B grade competition against pretty strong competition. That cost him a stroke and he found himself in A grade last week.
No problem for John. Playing off 12, he tallied 41 points to win again – against even stronger company.
Even more impressive, his 41 points included two wipes and two one-pointers.
"I'm not a natural golfer by any means," said John.
"But playing every week, as I do, helps you focus better and you naturally improve.
"I just enjoy playing with my mates," he said.
"I don't hit it as far as I used to, but I just struck it well on Tuesday and I didn't have more than two putts on any hole."
John plays only on Tuesdays, helping his three sons run the family's Hastings Street bar, Little Sister, during the rest of the week.
The bar opened in Noosa Junction in 2017 and relocated to Hastings Street 18 months ago.
Though Covid severely restricted trade during the past two years, John says things are looking up for Little Sister.
He describes his own role in the operation as behind the scenes and he leaves his boys to manage and service the bar. But he says it's all good fun and he clearly enjoys the relationship he has with his sons.
Floods cost Cooroy dearly
Cooroy Golf Club will spend more than $50,000 to repair the damage caused by this year's floods and heavy rain.
And that doesn't include the cost of the time put in by staff and volunteers.
The club spent $23,000 on two 40 foot container bases to use as new bridge decks after floods washed away bridges on the sixth and 18th holes.
The bases will arrive shortly and repair work will begin as soon as the fairways are firm enough to allow heavy equipment onto the course.
Grants, including one of $4910 from the Queensland Disaster Recovery Program and $15,000 from the State Government, will help offset some of the flood restoration costs, as will donations and proceeds from an ongoing flood raffle.
The raffle has already raised more than $5000.
Lost revenue as a result of the course and clubhouse being closed for an extended period has been estimated at between $150,000 and $200,000.
On a more positive note, April trading was exceptionally good and the recent rain will ensure the club gets through winter with good grass coverage.
Noosa Springs juniors back on top
Noosa Springs Division 1 junior pennant team, the defending champion, rocketed to the top of this year's standings after a comprehensive 3-1 defeat of cross-town rival Noosa in a high quality contest at Maroochy River on Sunday.
Brilliantly led by sisters Sunday and Coco Moore, who both remain unbeaten in this year's competition, Noosa Springs seemed to be in command throughout the morning.
Sunday beat Noosa's Madison Kelly, a former Noosa Springs member, 5 & 3, Coco beat Nate Jackson 3 & 2, and Jasmine Lena was too strong for Noosa's Max Rogers, beating him 4 & 2. Noosa's Shane Dunning prevented a clean sweep by beating Noosa Springs' newcomer Alex Bray 3 & 1.
In Division 2, Noosa Springs beat Headland 2.5 to 1.5 following wins by James McCulloch (5 & 3) and Angus Thomson (5 & 3), and a tied match to Josh Bell.
Noosa's Division 2 team lost its spot atop the standings to Mt Coolum, after losing 2.5 to 1.5. Noosa's winner was Declan Hudson, while Nathan Roper tied his match with Mt Coolum's Rory Habermann.
Next week's round of junior pennant matches will be played at Headland, beginning at 7am. Full details of all matches can be found at sunshinecoastgolf.org
Full field for Cooroy Open
A full field is likely to contest this year's Cooroy Men's Open on Sunday.
The response to this year's signature event has been strong despite the weather which has affected all Sunshine Coast courses.
The field was capped at 116, and there has been strong interest from players from other clubs.
Club officials say that despite the rain, the work put in by greens staff and volunteers will ensure the course is in great shape.
The 18-hole stroke event begins with a shotgun start at 8am.
Meanwhile, the Cooroy Women's Open has been postponed until Friday July 22.
Ladies take golf spotlight
The second leg of this year's Noosa Springs Ladies Golf Series takes place on Tuesday July 5. That's when the ladies play 18 holes of golf in the morning, and follow up with a gourmet lunch, complete with sparkling wine, in the clubhouse.
And there's also the chance to win a half-day session at one of Australia's best day spas.
This year's series concludes on December 6. Those who play in two legs will be in the running for the major prize – a Half Day Spa Escape, which includes a Thermal Suite Experience and a choice of massage, facial or sugar scrub, plus four rounds of golf in an electric cart.
The cost for golf and lunch is $49 for Noosa Springs' members, $94 for social and reciprocal members, and $104 for visitors.
For more information phone the Golf Shop on 5440 3325 or email golf@noosasprings.com.au
Club competitions
NOOSA
Tuesday 7 June
Men's stableford: A grade – John Curtiss 41, Peter Buhk 40, Chris Wright 37, Michael O'Connor 36c/b; Ray Bostelman 37c/b, Clark Plasier 37c/b, Steve Grey 37, Derek Pousette 36; Glenn Puckeridge 37, Tony Nicol 36c/b, David Wood 36, Michael Meltzer 35c/b.
Wednesday 8 June
Vets Par Plus: A grade – Pete Blair +2, David Murray 0c/b, Trev Sumner 0c/b; B grade – Scott Hobden +2, Keith Munday 0, Phil Grieve -1c/b; C grade – Shane Rayner +3, Grahame Cronk +1, John Sharp 0c/b.
NOOSA SPRINGS
Monday 6 June
Men's stableford:
Tuesday 7 June
Men's stableford: Daniel Mullins 36, Craig Willian 35, John Taylor 34c/b, women's: Penelope Paterson 26, Judy Buss 24.
Wednesday 8 June
Men's stableford: Richard Tasso 41, John Stephens 40, Ben Kearney 37; women's: Susan Walker 37, Debbie Collinge 32c/b, Lorna Gibson 32.
Thursday 9 June
Men's stableford, black tee: Michael O'Connor 35c/b, Bob Hunt 35, John Taylor 33.
Saturday 11 June
Men's stableford: Graham Young 42, William Jaede 39c/b, Alex Hackett 39, Jean-Paul Ricca 38c/b; B grade – Michael Cawsey 40c/b, Angus Thomson 40, John Moloney 34, Timothy Smith 33; women's: A grade – Dianne Tonge 38, Dana Angus 37, Karen O'Brien 35; B grade – Marlo Douglass 32, Susan Walker 31c/b, Shard Lorenzo 31.
Sunday, 12 June
Men's stableford: Andy Hewlett 34, Ryza Garbacz 33c/b, Andrew Reid 33c/b.
COOROY
Tuesday 7 June
Women's stroke, 9 holes: Mary Miller 36, Jenny Tucker 38, Wendy Morse 40c/b;
Wednesday 8 June
Vet's stableford: Div 1 – Andrew Stewart 39c/b, Mike Rumford 39, Mark Kelly 36; Div 2 – Tom Williams 37, Michael Lunney 36, Andre Smit 34; Div 3 – Matt Saunders 38, Ian Mulhall 36, James Bisset 34.
Thursday 9 June
Women's stableford: Christine Michael 35, Aileen Morton 34, Kate Sawrey 33.
Saturday 11 June
Men's stableford: Div 1 – Dave Wippell 36c/b, Mark Kelly 36, Peter Jeucken 35; Div 2 – John Cairns 40, David Attrill 36, Darrin Uren 35; women's: Sue Piggott 41, Tina Thomas 34, Christine Michael 32.