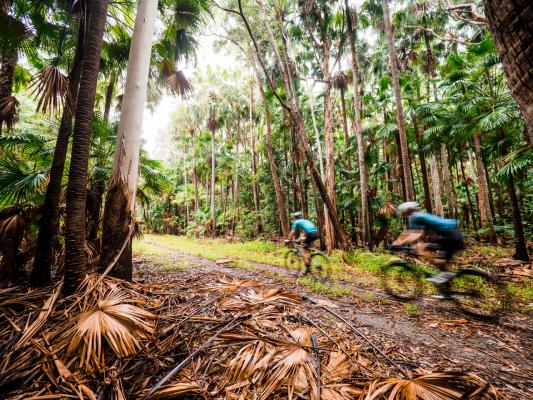 The two-day cycling festival, Noosa Enduro, returns for its biggest year yet after a 10-year hiatus.
Taking in some of Noosa's most spectacular off-road real estate, riders will be guided through stunning trails, tracks, mountains and tablelands while tackling some of the Coast's most difficult terrain.
The brainchild of USM's Geoff Myer and local resident Scott Woodward, the event was championed by none other than Garth Prowd, godfather of Australian triathlon, pioneer for Australian sport and a passionate athlete advocate.
Billed as a marathon mountain bike event for elite competitors, the Noosa Enduro attracted some of the best riders from around the world.
Garth tragically passed away three years ago and since then his son-in-laws, ProcuSports founders and former professional cyclists, Matt Wilson and Ben Kersten have looked for ways to continue his legacy.
The discovery of some archived coverage of the original Noosa Enduro coincided with 2020's Covid-19 lockdown and an idea was born.
With elite, mass participation and e-bike categories, Noosa Enduro has something for the avid rider, the beginner and those who just really want to push their limits.
The mass participation ride takes on the same course as the elite riders over a mixed terrain of gravel and private roads, single track, pitted fields and some technical sections.
Noosa Enduro director Matt Wilson said the event had already had a massive amount of interest with tickets selling fast.
"We're excited to be bringing an iconic event back to Noosa and, judging by the amount of interest we've already received, riders are pretty keen too," Matt said.
"The courses that have been mapped out are epic and there's something for every age group and ability.
"With six different rides on offer you can tackle the Enduro on the Saturday and finish the weekend with the Noosa Fondo, a road and gravel ride through the hinterland."
Participants can also test themselves on one of Noosa's most well-known climbs nicknamed 'Mother', a climb so tough only a handful of riders on the original enduro have ever completed without putting their feet down.
Turning the Noosa Hinterland into one giant playground, the epic trails have been tried, tested and ready for those up for the challenge.
The two-day cycling festival will also feature a festival village with entertainment, a cycling expo, food stalls, local craft breweries, and kids' events.
For all the event details, visit noosaenduro.com.au