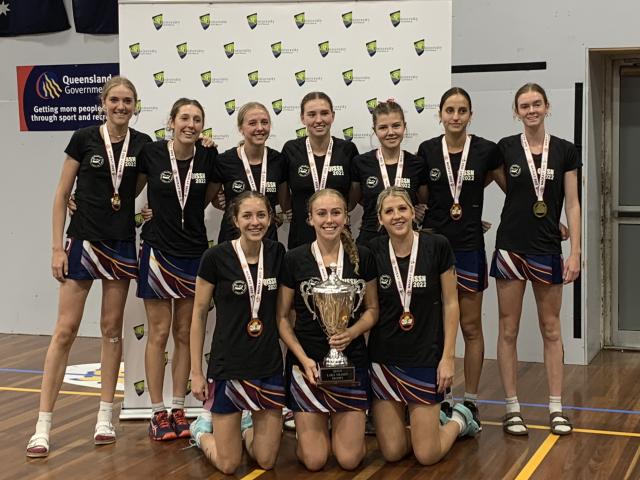 While most students enjoyed the slower pace of school holidays, a small group of Year 11 and 12 students and their coaches from Good Shepherd Lutheran College headed north to Mackay to compete at one of the largest school-based netball tournaments in Australia.
The Queensland Independent Secondary Schools Netball (QISSN) started in 2000 with a modest 16 teams and has now grown to a membership of 64 colleges including teams from Catholic, Anglican, Lutheran and Independent schools across Queensland.
St Patricks/Mercy College of Mackay hosted this year's five day tournament with Good Shepherd competing for the fifth time.
Good Shepherd Lutheran College netball head coach Jacqui Delaney said, "It's fantastic to see the high skill and talent in the team.
"The girls all played really well and fought hard. They felt very privileged to be part of such a challenging and competitive competition."
The GSLC team, made up of Year 11 and 12 students enjoyed the celebrations after winning the Division 2
The previous success of the Good Shepherd team saw them allocated to play in Division 2.
The years of training before and after school saw them bring home the major trophy for Division 2, placing them ninth out of 64 schools.
Ms Delaney was delighted with the outcome and felt confident that this group of girls could do something special.
The vast size of the competition is best described by Year 12 student and team captain Mia Smalley.
"In the afternoon we headed to the opening ceremony. That's when we realised how huge the competition was – 2185 athletes, 64 QISSN
teams and 70 Confro teams," Ms Smalley said.
"It was an amazing experience to be a part of and I'm so lucky to have been here with my teammates. I will cherish the memory for years to come."
Year 11 student Ellie Brice earned herself a place on the merit Rising Stars team while Jada Delaney was named in the merit All Stars team.
With both girls being in Year 11, they will be a force to be reckoned with at the 2023 competition.