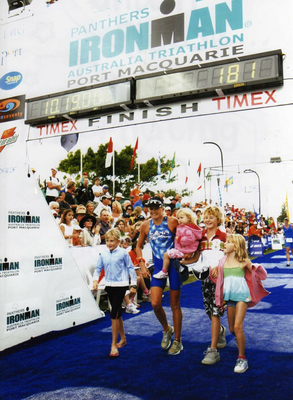 From her early days in the 80s, as a nipper and a clubbie, young Leanne Mewett was regularly confronted with very traditional, old school comments like 'Girls wouldn't want to do that, girls can't do that'.
But Leanne did want to do it and could do it, and in her own quiet and respectful way, she was continually forging a path for others to follow.
"I was one of those kids who never stopped. I just wanted to be in the school cricket team, the football team and everyone kept telling me I was a girl. But then I would beat them, so they had to include me."
"Way back in the day, when things weren't thought possible, I was doing it. I was the first girl nipper at Mooloolaba Surf Club and back then, I would have to compete with the boys because there were no girls involved.
"That suited me fine and I was even happy to put on a pair of boy's togs, because there were no girl's togs. They didn't particularly like that I was in the surf club, they just put up with me because my brother was in there."
Leanne, who trains in Noosa and works there with real estate agent Richardson and Wrench, said they just couldn't get rid of her.
"I would just tag along to everything," she said.
"In 1988 I made the World Lifesaving titles at Maroochydore in the junior swim team, as one of the boys, because there were no girls. I had to race the boys, but it suited me fine because they were fast and furious and treated me just as a competitor. I never wanted to be treated as anything other than someone to race hard with."
Several decades later, now Leanne Southwell, she is a still a strong advocate for more women in triathlon, and sport in general, and is happy to see women and girls given so many opportunities these days.
"When I was young I would have totally, totally loved that more than anything else,' she said. "I have always encouraged women to get into the sport and show them that it can be done, even with young kids. It doesn't matter if it is a recreational or competitive level, whatever feels right for you.
"The biggest barrier is confidence. It used to be 'If I do it, what will people think?'. But now the shift is to networking, so women don't feel like they are doing it to stand out or are standing alone. When you have a family it is hard to make time and feel good about yourself so it is great to see the support and encouragement systems makes them feel like there is success in trying," she said.
Leanne's venture into triathlon came as the new sport was attracting a lot of attention among the surf lifesaving crowd and she remembers the first triathlons on the Sunshine Coast were used as a fund raiser for the surf clubs.
"I was 14 when I did my first triathlon and I entered in the under 18s and I rode a pink girl's bike. Mum thought the others weren't suitable for a girl. It was a really heavy step-through women's bike, but my dad put cow horn handlebars on it for me. I didn't even take the basket off."
Triathlon ushered in a new world of equality and after competing at worlds and winning some Australian titles she eventually left surf lifesaving behind and crossed over to the world of swim, ride, run.
"All the triathlon guys were very encouraging in those days. That is what I liked about triathlon, everyone was encouraging which was totally different to the old school surf clubs, so entrenched in history. The sport of triathlon really suited me and the longer the race the better."
Eventually marrying into the famous Southwell clan and being exposed to the triathlon world in Sydney's beach side suburb of Cronulla, Leanne was soon heading towards the world of Ironman.
"It was great to be surrounded by like-minded people. When you do surround yourself with that culture, you just become immersed in it. Next minute you are doing it and you don't realise the transition and I went straight up to the longer stuff. I knew Greg Welch and all those guys from surf days and Welchy used to say 'You've got to come up and do the long stuff'. And when I met the Southwell family everyone was doing it in our squad."
"In my first half Ironman I got third overall and that was when you had to qualify for Ironman Australia. I said to my then husband Tony, 'What do I do now?' He said, 'Take the spot'. I said 'Really, an Ironman? How am I going to do that?'"
"When I did my first Ironman at Forster Tuncurry my longest bike ride was 110km. I got out of the swim first and my seat post broke, but I got off the bike and ran under 3:30. I won my age group and I got a slot for Kona. I again thought 'What do I do now?' So I went to Hawaii the first time and I podiumed in my age group. I didn't think about it, it was just a sport I liked doing and the results weren't pushed. They just happened.
"I started to have kids quite young. Triathlon was a sport that I could fit around my family and it didn't take a lot of time out of raising kids or having a family or having a career. I could train early and do my two sessions a day around work, or study or family. I never went back to surf lifesaving because by then it didn't have the same appeal to me as triathlon."
Leanne also won her age group one year at the World Longcourse champs, crossing the line to breast feed her fourth baby.
"Someone said to me, 'You can't have babies in the recovery area'. My response was 'Well do you want to feed my baby for me?'"
Despite a short stint living and training in Cronulla, Leanne is a Sunny Coast girl through and through.
"Mooloolaba is totally one of my favourite races to do. There have been lots of changes over the decades but it has always been a race that the community has really backed. Locals have always supported the race and I think that is really encouraging for women in the sport and kids. It is really good at involving the local groups and including the kids in the whole festival which I really like."
Leanne said after a break from the sport, it has taken a while to get that balance of work and training and get the hunger again.
"My career has been a priority for a couple of years and I am now working for Richardson and Wrench in Noosa. I have just gotten back into thinking about racing and I am training with Nick Croft at Noosa pool. The positive of our sport is that you can have that competitiveness at any age group.
"But I don't put pressure on myself either and that has always helped with my longevity. I am fit at the moment but I haven't raced for a long time, so I am not sure if I am fast yet. We will have to see how we go on race day," she laughed.