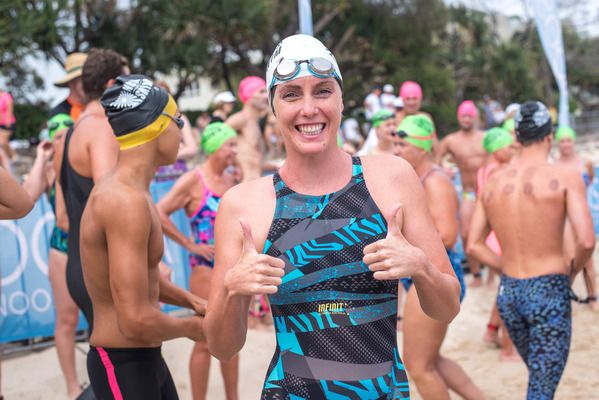 This year the annual Noosa Summer Swim Festival is the finale to Swimming Australia's popular 'Australia Swims' campaign. The finish line – Tokyo!
Now in its third year, the initiative encourages all Australians to celebrate their love of the water and commit the distance they plan to swim in January – whether it's 50 metres or 50 kilometres – to a nation-wide challenge.
Swimming Australia has teamed up with a number of marquee open water events around the country during the Australia Swims campaign, including the Pier to Pub in Lorne, the Portsea Swim Classic, the Great Australia Day Swim and for the first time, the Noosa Summer Swim will be the grand finale.
As the excitement builds towards the Olympics and Paralympics, this year's challenge has a touch of Tokyo and will ignite traditional state rivalries, with states and territories competing in a virtual race to Japan's capital – the destination of the 2020 Games.
Last year saw thousands of people commit their distance, accumulating a grand total of 40,358.43kms to successfully achieve the challenge of lapping Australia and surpassing 2018's total of 39,113kms.
The 2019 Noosa Summer Swim winner, Kareena Lee, was the first swimmer selected on the Australian 2020 Olympic team and is a big advocate of the campaign.
Swimming Australia CEO Leigh Russell is encouraging all Australians to get behind the campaign this summer to make it the most inclusive and expansive Australia Swims initiative to date.
"I'm really excited to launch this year's Australia Swims campaign which takes on an Olympic and Paralympic element in 2020 as states and territories race to Tokyo," Russell said.
"This initiative is all about inspiring people of all ages and abilities to get in the water, so it doesn't matter if you pledge 50 metres or 25 kilometres, every distance adds to your state's grand total and edges your region closer to the goal of 7,154km.
To officially commit your distance, visit the Australia Swims website or download Swimming Australia's free iSwim app.
The two-day Noosa Summer Swim Festival kicks off on Saturday 1 February with junior events plus short and long courses (1km, 2km, 3km) – these events attract thousands of swimmers of all ages.
On Saturday evening, a new Outdoor Cinema event suported by Noosa Civic Shopping Centre will be held at Noosa Woods starting at 6.30pm with cartoons for the kids then the family movie 'The Greatest Showman'
On Sunday, seasoned swimmers get to push their limits in the 5km Noosa Grand Prix, or for a more leisurely distance – try the 1500m Social Swim.
More information on the Noosa Summer Swim and to enter, visit: