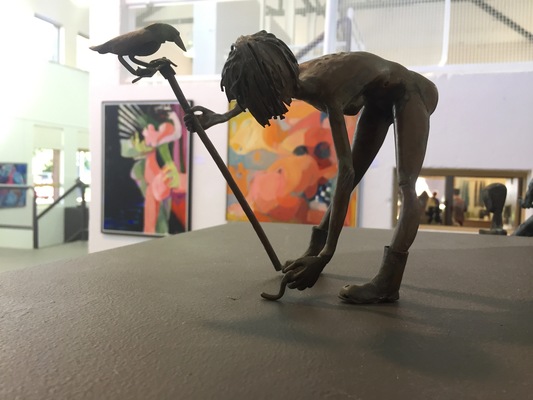 By Hollie Harris
Internationally collected, Hinterland artist, Kaya Sulc this week announced select pieces of his private collection are now open to buyers.
The 87-year-old, Cooroy-based sculptor and painter made the decision based on the overwhelming reception to his current exhibition, 'As Time Goes By.'
A retrospective of his work over the past 50 years, the show is 60 paintings and sculptures from his private collection. The overwhelming response to his show prompted a rethink, for the artist.
"It takes a lot of work to sell a painting. It's like parting with a piece of myself, "Mr Sulc said. "Like one of my children are leaving …
"I've been overwhelmed by the interest everyone has had in my work. And a sale, for me is about the work being appreciated."
With his works held in public and private collections around the world, Sulc said letting go of his private collection was a final act of 'moving on' for him.
"This is a summation of my life's work, and knowing that people do appreciate it as much as they do made me realise, it can find a good home.
"It's like fostering out my grandchildren. It's good to know they're going to a good home and it will be appreciated."
In response to the success of the exhibition, BFAC is hosting a closing event for 'As Time Goes By'. A chance to meet the artist, purchase his work and hear some of the stories behind his unforgettable pieces. The night begins 5pm, Friday June 15 and runs until 6.30pm. All welcome.