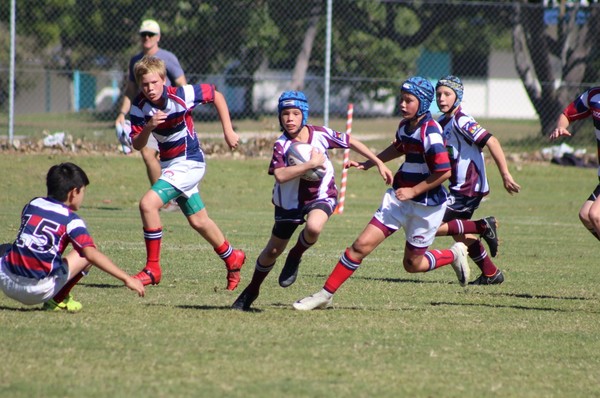 By Hollie Harris
U8 Noosa Fins v Maroochydore Black
Cracking day at Caloundra and we took on a good Maroochydore team. Our boys did their best being short on players luckily our other U8 team help us out. Kellen did some great storming forward runs to get him 2 tries along with Noah getting that ball and breaking through. Ethan got involved doing some awesome tackles for his team.
Players of the Day were Kellen Donoghue & Noah Massingham with thanks to Dominoes & Ben & Jerry's.
U11 Maroochydore 22 def Noosa Fins 7
The Fins fought a fiery feud against the Swans on Saturday, barging and charging without ceasing. The 'Dores bolted in two quick tries but we never faltered, sending our centre flying like the Flash to score under the posts. The second half brought more grunt, grind and grit from our forwards, clawing ahead metre by metre, while our unrelenting backs were especially impressive in defence, chasing down several would-be runaway tries just before the line. Unfortunately our understrength team couldn't quite claw back the advantages Maroochy enjoyed, but were able to walk away happy and proud after a tough tussle. Next time …
U12 Noosa Reds 19 def Saints 7
The Noosa Reds showed some great fighting spirit on Saturday overcoming the very determined Saints outfit in what was a very physical battle from start to finish. After 10 minutes our boys were on the back foot and down a converted try but thanks to a superb intercept try by Louie Griffen they were back on track and building with confidence. In the second half the team stuck together & settled into their game plan, eventually running away with a great win. Player of the week awards went to Jack Paenga and Nick Auckland for their strong defence and hard work around the ruck.
U14 Noosa 5 def by Flinders/Saints 19
This tight game against top of the ladder opponents finally ran away from Noosa. With the score at 12-5 with 5 minutes to go, the next try was always going to be crucial but it went the other way this time.
Try: Jason Burns
U6 Noosa v Saints
Round 7 this week saw our team play the Saints down at Caloundra. The strength this week was their defence with tags being made more consistently by clearly placing two hands on the Saint's shorts. There was an increase in "quick plays of the ball" which enabled the little U/6 Dolphins to score more tries. The Dolphin's Man of the Match was Lincoln, congratulations. Ben from the Saints was awarded their man of the match who received an award from our Dolphins team in the name of good sportsmanship.