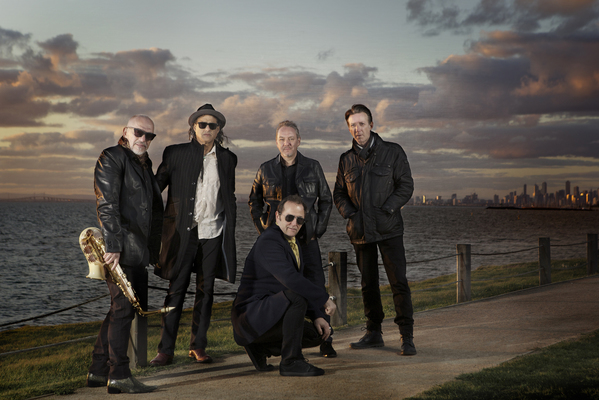 By Hollie Harris
The Black Sorrows continue to be one of Australia's most enduring touring bands and they are coming to Tewantin Noosa RSL on Sunday 26 August. At the helm, Joe Camilleri steers the band through an energetic interplay of solid grooves and well-crafted songs that mix those well-worn ingredients of blues, soul, R&B, gospel, country and even Brill Building pop. The Black Sorrows have won the ARIA for Best Band and sold more than two million albums worldwide.
Any examination of The Black Sorrows comes down to one person, Joe Camilleri frontman and the brains behind the band. Recently awarded "living legend" status by Rolling Stone, Joe's career spans an astonishing 50+ years. As a singer, songwriter, saxophonist and producer Joe Camilleri is considered one of the most genuinely talented figures in Australian music still at the top of his game.
Songs such as So Young, Hit And Run, Shape I'm In, Hold On To Me, Harley and Rose, Chained To The Wheel , Never Let Me Go and the Chosen Ones have become radio staples. As leader of two of Australia's most successful bands, Jo Jo Zep and The Falcons and The Black Sorrows, Joe's music has become part of Australian music culture. Joe was inducted into the Australian Recording Industry Association (ARIA) Hall of Fame in 2007. Over the years other greats have admired Camilleri's songwriting. Elvis Costello and John Denver are just two who have recorded cover versions of Joe's music.
Camilleri launched The Black Sorrows, a loose band of like-minded musicians, in 1984 following the demise of his seminal band Jo Jo Zep and The Falcons the year before. From humble beginnings playing inner-city cafes around Melbourne and selling albums from the boot of a car, Camilleri transformed The Black Sorrows into one of the most sophisticated ensembles in the country. The independently released album Dear Children, represented a turning point once CBS/Sony stepped in with a world-wide deal. When radio picked up the classic track, Mystified, The Black Sorrows really took flight releasing multi-platinum sellers Hold On To Me, Harley & Rose and The Chosen Ones. The Black Sorrows have won the ARIA for Best Band, played sell-out shows across Europe and sold more than two million albums worldwide.
In keeping with Joe's penchant for continually moving forward, the newest version of The Black Sorrows is a formidable one – Claude Carranza (guitar/vocals), Mark Gray (bass/vocals), John McCall (keyboards/vocals) and Angus Burchall (drums).
Their Tewantin show starts with support act, Shane Kells at 1.30pm and the Black Sorrows are on stage from 3pm.
Tickets are $30 for Members and $35 for Non-members. Tickets are available at reception of Tewantin Noosa RSL.