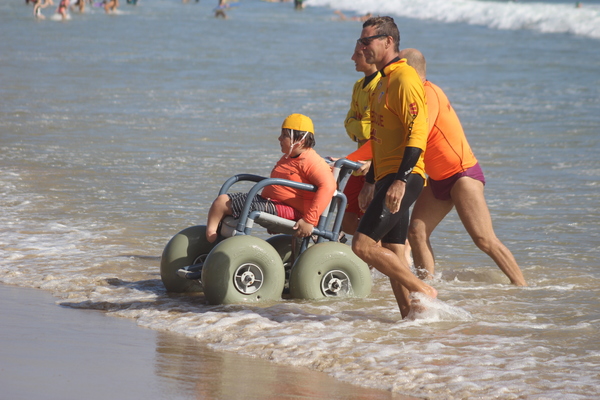 By Ron Lane
As a result of erosion at Noosas Main Beach the first Saturday of the Seahorse Nippers four week season saw their activities switched to Lions Park where instead of sand our little people performed on grass; and water events under strict supervision of qualified lifesavers were conducted in the river.
For the first day of the season there were 26 Nippers in attendance and they were under the care of 52 careers; all qualified volunteer members of the Noosa Heads SLSC.The parachute and other games were conducted and water ski and board paddle events were held. This has been a good role up said Sam Smith JAC Chairperson, "but next weekend we will need more people as a lot of our helpers will be in Perth competing in the National Titles."
Sitting on the sideline watching were Keith and Marie Campbell the proud parents of Niki Mawby wife of Steve Mawby, the couple responsible for the formation of the Seahorse Nippers. "What they and their people have achieved is incredible," said Keith, "look at their (the children's) faces; if only there was more of this. And it is so good to see so many of the youth helping."
Another highlight was the attendance of 10yr old Rohan McDonald. Rohan, who has been a Seahorse since day one, had both legs amputated very early in life. This has not stopped this little warrior as he now swims 1kl three times a week doing both freestyle and back stroke. He is just one of many whose life has been changed by the Seahorse Nippers.
"To ensure that we will always have a good work structure we are at present training two more people Big Peter Williams and Little Jo Power to become coordinators. They have been with us for some time and they do great work," said Steve.
It is now six years since the Seahorses started and proud to say it has now spread throughout Australia sometimes under another name but still the same objective; helping our children in need. Also many thanks to the Council and the Lions for their support at the Park.