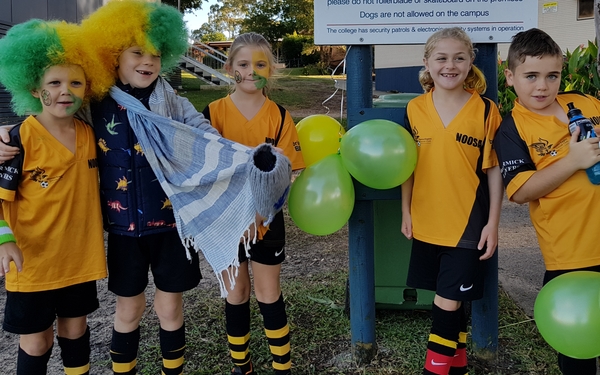 By Emily Talbot
Saturdays home game was full of atmosphere as players and families came dressed in gold and green colurs in support of the Socceroos! A great day had by all!
With a few absent players, Noosa U7 Gold were so grateful to have a fun time on feild with our new friends from the opposing team from Buderim, who lent us a few of their players! Thankyou Buderim!
We also welcomed back Oscar Bryant, who has been off feild for a number of weeks after breaking his arm. Oscar came into goals so excited and played exceptional well, stopping every ball that came at him!
Zach, Emily, Cruiz and Myles all played well defence and worked hard as a team the entire time. Well done to Myles for your goals! A close game, with the score finished 4-3 to Noosa! Congratulations Oscar who won player of the week!
Each week it is so wonderful to see the Under 8 boys play their competitive Saturday games with tenacity, heart and pure enjoyment for the sport of soccer. Despite a loss to the Buddina Seagulls, two amazing goals were scored by Kyro and Xavier for the Noosa team. Congratulation to Man of the Match Zain, and to Nate and Byron for strong defence and teamwork.
Another intense game from Noosa U10 Black against Currimundi as both teams fought hard to score! A great game played by all players, as the defense on the back line really stepped it up! The mid fielders worked well together, with some exceptional passes to the boys up front! Noosa came off with a great win 10-0! Well done Iggy for your great play in goals! Player awards went to Barnaby and Lenny! Fantastic work guys!