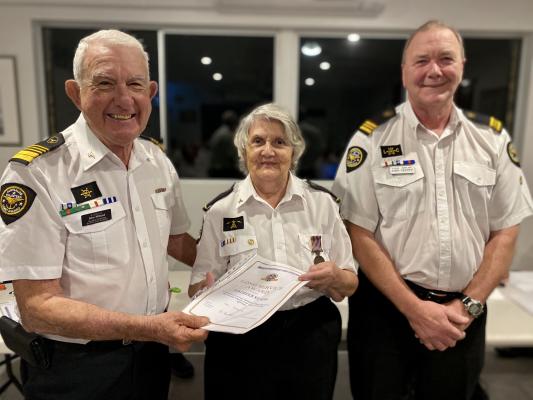 By Jim Fagan
Coast Guard Noosa radio operators work around the clock dealing with close to 40,000 calls a year from boaties wanting to know the weather, tides, vessels going out to sea and back, water police emergencies, sea rescues, boats drifting in the river and the like.
And dealing with her fair share – just as she has done since 1985- is volunteer Maureen Stapp (74) of Noosa Heads.
On Monday night her long stint as a radio operator was recognised with a certificate of merit and, presenting it, Sunshine Coast Commodore John Milland said she had over the last 35 years been consistent and committed to her work.
Later Maureen told Noosa Today that she was on the boats at first and then "I had radio shifts as well. After a while it just got too hard doing both. I was working as well and you really never had time to be at home so I decided to concentrate on radio.
"When I started there was only another woman and her daughter. Now about half of our 27 operators would be women."
Maureen has dealt with lots of sea dramas but the one radio call she remembers most doesn't involve a boat!
"It was an ultralight aircraft with a woman pilot. She had flown into a tree on the North Shore and she was stuck in her harness 60 feet up in the branches.
"She couldn't find the radio channel to make contact with her crew, who were also on the North Shore, and somehow she got on to our channel.
"I kept hearing 'Help, Help, Help' and I thought it was some kid playing around. I decided to answer it and I realised it was an emergency as she was in danger of falling.
"I managed to inform the police and her own crew and she was rescued. I got a nice letter from the woman."
Does she often get letters of thanks? On the whole, people, especially the ones who have put themselves at risk in the first place, are grateful."
Maureen's shifts are 11am to 3pm every Saturday and one Monday night a month from 7pm to 7am and she has no intention of retiring "not at this stage anyway."