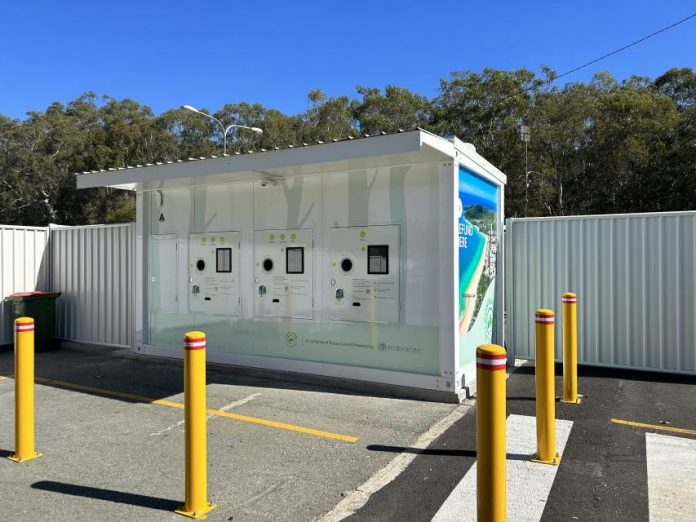 Recyclable drink containers can now be dropped off at Noosa Council's Eumundi Noosa Road waste facility for a 10-cent refund with the launch of a Containers for Change reverse vending machine.
Built by Ecoboxtec, the first-of-its-kind machine is able to sort and process eligible containers using artificial intelligence technology ready for recycling.
Noosa Mayor Clare Stewart said council was excited to trial the Australian-made machine.
"We're thrilled to continue our war on waste with the addition of this brand-new technology," she said.
"With a host of features for processing containers, it's easy to use just like any other Containers for Change machines residents would be used to."
Waste coordinator Mark Borgert said everyone with a Containers for Change member account could start recycling and earning money for every eligible container deposited at the machine.
"We're encouraging as many residents as possible to use the machine so we can thoroughly road-test it to identify any issues during the trial," Mr Borgert said.
Ecoboxtec director Julien Craeye said the prototype machine was designed small enough to fit within a parking space to make it easy to install in areas convenient for the public to access.
"We also worked hard to reduce the workload for operators, and material handling. We take great pride in manufacturing these machines in Australia," he said.
"Our aim was to make it easier for everyone to do their bit to keep the planet clean."
Mr Borgert said joining the Containers for Change program supported council's goal of increasing diversion of recyclable material from landfill to both reduce emissions and conserve landfill space.
"This machine will potentially provide a monetary incentive for residents to recycle while simplifying the processing of containers ready for recycling," he said.
"We look forward to the results of the trial."
Container Exchange (COEX) is the not-for-profit that operates the Containers for Change container refund scheme in Queensland.
COEX chief executive officer Natalie Roach said the trial of the new machine would provide locals with a new and different way of returning drink containers for refunds.
"This is the first reverse vending machine in the Noosa community, enabling locals and visitors to try a new way to recycle their empties, while earning or donating a 10-cent refund and helping to keep this popular destination litter free," Ms Roach said.
"We are keen to see the results of the trial and to continue to work with council to explore new ways for Noosa residents to participate in Containers for Change."
The machine is at council's Resource Recovery Centre – 561 Eumundi Noosa Road, Doonan, open 7am to 5pm daily.