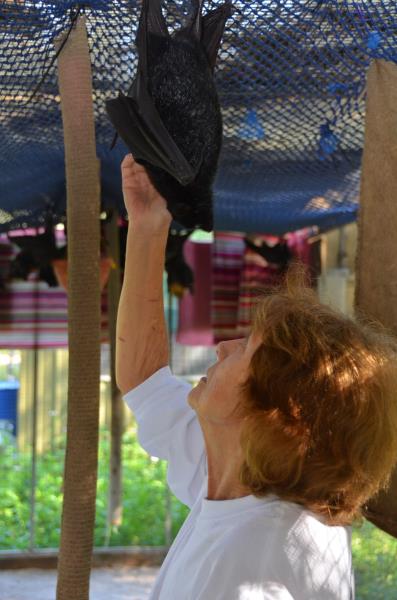 By JONATHON HOWARD
THE debate over flying-fox colonies continues to rage across the Sunshine Coast, as dispersal methods to shift a Coolum-based colony ended last week.
Australia's greatest pollinator has become Australia's greatest pest in the eyes of many residents, but Flying-fox Rescue Release Noosa secretary Terrie Ridgway said the vital species was facing "functional extinction".
Flying-fox dispersal methods in Coolum included the use of lights and hoses over a period of three weeks at Cassia Wildlife Corridor in Coolum.
The non-lethal dispersal actions were in response to community concerns.
Sunshine Coast councillor, Stephen Robinson, said determining outcomes from the activity would take time.
"There has been a reduction in numbers of flying-fox within the Cassia wildlife corridor as a result of our activities," he said.
"However, as with all flying-fox dispersal actions, there are no guarantees of where the animals will venture to or if they will return."
Cr Robinson said council would continue to monitor flying-fox activity and numbers at the site.
"Flying-fox maintains very strong ties to their roost sites for their entire lives, so council will continue to observe movements at Cassia over the coming months," he said.
Mrs Ridgway said residents needed to learn to live with flying-fox or risk losing Australia's pollinators.
"We have to share our planet," she said.
"Flying-fox are vital to our ecosystems, but they're dying of exhaustion, a lack of food and scarce habitats."
Flying-fox Rescue Release co-ordinator, Jan Davie, said the stigma around flying-fox was unjustified.
"Dogs and cats carry more diseases than flying-fox," she said.
"Each time we move them, we find they are becoming more and more confined to small areas and we risk losing these vital creatures forever."
Mrs Davie said few dispersal methods were successful.
She also praised the Noosa Shire Council for its pro-active approach to flying-fox colonies.
"I want to praise Noosa Shire Council for their commitment to no dispersal methods in Noosa – it's welcome relief to have a council that understands the needs of flying-fox," she said.
Mrs Davie also extended an invitation for residents and visitors to visit the Flying-fox Rescue Release shelter at 33 Tronson Road.
"We're always open to teaching people about the importance of Flying-fox and we welcome visitors to the shelter," she said.
The Flying-fox Rescue Release Noosa Inc has released more than 140 flying-fox into the wild with another 100 set to be released soon.
The organisation is always looking for support and donations from the community.
To find out more about Flying-fox Rescue Release Noosa Inc, or to get involved or donate, phone: (07) 5485 2367.