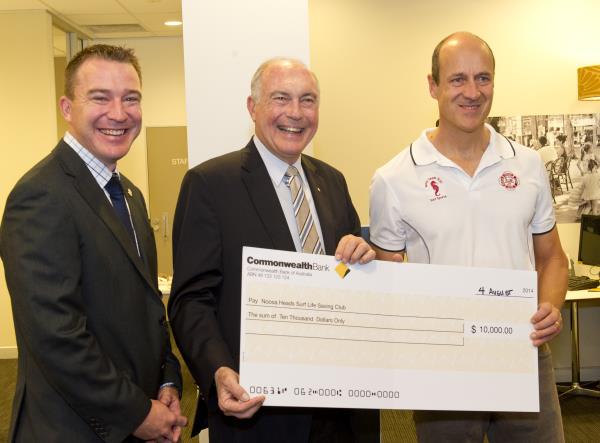 TWO Noosa community organisations were awarded grant money by the Commonwealth Bank Noosa Heads Branch on Monday, 4 August.
The grants form part of $2 million grant contributions from the Commonwealth Bank to 238 youth-focused organisations around the country.
This year Cooloola Noosa Life Education Association received $1604, and Noosa Heads Surf Life Saving Club received $10,000.
The grant cheques were presented to the community organisations by Commbank staff and Federal Member for Widebay and Deputy Prime Minister Warren Truss MP.
Mr Truss aknowlegded the hard work and valuable contribution these and other community focused groups make to their communities.
"Thanks to the support of grant programs such as these, we're able to support those community organisation to continue doing what they do best," he said.
Representing Cooloola Noosa Life Education Association was Emma Plasier.
"I'd like to thank the Commonwealth Bank and Mr Truss for this grant money," she said. "We're planning to put the fund towards a new computer and printer, which will help with our Cyberwise program to teach kids about cybersafety."
Accepting the cheque on behalf of Noosa Heads Surf Life Saving Club was Stephen Mawby, and his wife Nikki, who also thanked Commbank and Mr Truss.
"This grant money is a huge boost and will go towards purchasing a new road trailer to store and transport beach equipment," he said.
"It will also provide a training manual DVD for the Noosa Seahorse Nippers, a program which currently gives around 70 intellectually and physically disabled children the opportunity to develop beach and water skills.