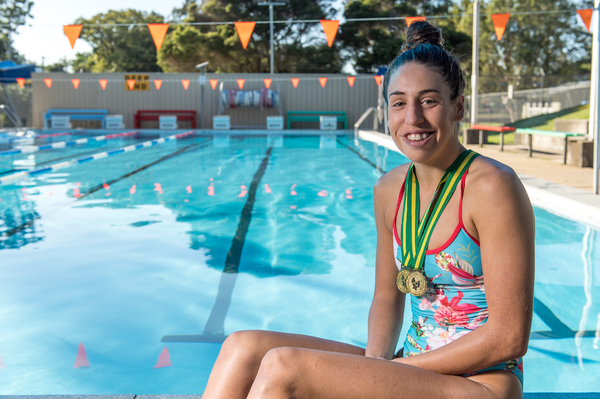 By Ron Lane
It was Wednesday afternoon just after 4 and the young lady had finished work for the day. Swimming in the lanes at the Tewantin State School Pool where she works with her parents, several young hopefuls were going through their programs and as we watched, Lana Rogers newly crowned Open Iron Woman Champion of Australia started to relax.
"It's a tough business," she said, "and you have just got to keep at it." As we started to chat it became obvious that here was a very determined young lady. She knew what she wanted, set her goals and that was it; to win the Australian Open Iron Woman title.
This for the girls was the ultimate; winning the Nutri Grain Series is also tops but it lacks the prestige and tradition of the Open. Even the Coolangatta Gold does not command the same respect.
"To win the Iron Woman at the Australian Titles is a totally different ball game from the Nutri Grain; for me it really was the big one."
Born in Sydney in April 1996 Lana lived with her family, parents Greg, Margaret and elder sister Dahlas, in the Southland Shire of Cronulla and attended the Inaburra Christian College. In 2001 both girls joined the Cronulla Surf Life Saving Club, (as Nippers) a club in which their father Greg was as a swimmer of legendary status. Lana went on to obtain her SRC Certificate and Dahlas being a year older, her bronze medallion.
"I guess you could say that we grew up in the right environment for our dad has a record second to none."
It was at 9 that she got her first taste of big surf. 'It was during a carnival at Shellharbour and I remember it quite well," she now adds with a laugh. "It was so big that I didn't want to go so that was it; I didn't. Believe me mum was not impressed. However after that I really started to learn that there is always a way around it. (When the surf is big). You could say it was a great learning curve a very important lesson- and I haven't looked back"
Then a year later Lana's attitude to swimming took on a more serious approach and she started winning medals. With the father as coach he set programs for the girls and most important of all taught them the importance of good work ethics. "If it wasn't for dad we would not be where we are today."
At age 15 her family, moved to North Queensland and settled in Rockhampton: while there the sisters joined the surf club at Emu Park where Lana also obtained her bronze medallion: and the girls commenced patrol duties.
Also at this time 2012, a talent scout suggested the girls obtain dual membership by joining the surf club at Maroochydore. By doing this it enabled them to compete for Maroochydore in the big surf carnivals, thus gaining the type of competition that was unavailable in North Queensland. To do this it involved a lot of travel from Emu Park to the Sunshine Coast and back, but Lana said, ''In the long run it was worth it."
After completing her schooling in 2014 she came to live in Noosa with Dahlas and as they were living away from their parents the girls started to fend for themselves. It was also at this time that they changed their membership from the Maroochydore club to Noosa; and once settled started to compete and train in earnest.
It was then that a dream Lana had for years, a dream of becoming an Iron Woman, was starting to become a reality.
But if she was to achieve this, her commitment would have to be full on and her other choice, life as a university student, put on hold. The path she chose was that of an athlete. In this predicament Lana was not alone as her sister Dahlas also had a decision to make; continue on a career in surf or concentrate on the pool; she chose the pool.
Both girls made the right decisions: Dahlas went on to win a bronze medal at the Australian Championships swimming in the open 400m freestyle– something of which Larna is very proud.
At Noosa Lana came under two coaches Sharlene Kelly (ski) and Clint Irwin (board). By this time her parents had returned south and finally settled in Maleny. However because of the different locations her swimming program had to be addressed and after discussions, her coaching came under the supervision of Brian Stehr head coach at the Good Shepard Lutheran College in Noosaville.
''It was three years ago,'' said Kelly, ''that we really became involved; and boy was she motivated. First two years we worked on improving her technique, strength, fitness and controlled aggressive attitude; it was then she came to realise her potential."
"It is easy to see where her attitude came from," said board coach Irwin. "Her father Greg was an Olympic and Commonwealth games medalist as well as an Australian Surf champion so at an early age these virtues were instilled. She is very adamant about what she wants so occasionally we have our ups and downs; but basically she is a pleasure to work with."
Her seasons prior to Perth had been full of ups and downs. Her competing in the Coolangatta Gold had been a great learning experience regarding programing; qualifying for the Nutri Grain was good but an injury caused bitter disappointment. "I was making finals but always felt like the brides maid.
But in early 2018 things started to happen; came second in the Queensland lron Woman and won the Womens Open Belt Race. I got a real kick out of that (the belt title) as both my sister and dad were belt champions."
On the Friday before the Iron Woman final at the Australian Titles, Lana teamed up with clubmates Electra Outram, Jordie Mercer and Kareena Lee to win the silver medal in the ladies surf team race. This was to be a good indication of what lay ahead.
Then next day came the big one. The date was Saturday April 21st the place was Scarborough Beach West Australia; the time was approximately 11am and the occasion– the final of the Surf Life Saving Open Iron Woman Championship of Australia. The blue ribbon event for women
Scheduled for Sunday the event was bought forward a day because of inclement weather. Having qualified for the final she received from her ski coach and mentor Sharlene Kelly, what was to be simple but stirring words of advice, ''It's the Aussies– so you just got to go for it."
The Iron Woman event covers three disciplines, swimming, 400 mts, board paddling 600 mts and ski 800 mts. The order in which each will be contested is decided by a draw conducted by officials; and order was ski swim board. "This is what I had hoped for- the swim section to be second." said Larna.
"When I heard the draw I thought I had a good chance of winning if I could come out of the swim leg in front; and that was exactly what happened. As I ran along the beach to do the board leg, Sharlene words really hit me, it's the Aussies– so you just got to go for it; and that's what I did. As I crossed the finish line it didn't feel real; I had kicked a goal that not a lot of ladies get a chance to do."
Back home watching on the T.V.her father and sister were astatic. ''I was told that dad was speechless and that would be unusual for him" said Lana with a smile."
Then just fifteen minutes after winning the Iron Woman she again stood on the starters' line. This time with two other club mates, Jordan Mercer and Electra Outram they were to contest the Womens Open Taplin Relay final; another major event for women.
Like the Iron Woman, it consists of three disciplines board, ski and swim; the difference being that it is contested by three athletes with each being a specialist in one of the disciplines.
'It was great to win this; it was another first for Noosa," said Lana. "What really got us there was Jordie performance on the ski. She put in a great effort got us off to a good start, really punched her way through the break and Electra again put in another great performance on the board my part was the swim: we pulled off, we won the gold.''
For the girls to win the Australian Taplin capped off a great season. Having contested seven major carnivals for the year they were beaten only once.
Like all good champions Lana stresses the importance of her support group. "Looking back on my career it all started with dad coaching me in swimming. Right at the start he was strict and tough, set my programs and taught me the meaning of work ethic; and I wouldn't have it any other way."
When talking with coaches Kelly and Irwin, both endorsed Lana remarks. Noosas Head Coach Darren Mercer said, "Her win was amazing, when she joined us she could hardly sit on a ski; her improvement was unreal and the win well deserved. I have never seen such determination.'
But all is not a life of surf. Recently she was nominated by coach Sharlene Kelly to join a new organization called Windo; Women Initiating New Direction Organisation. A local community group founded by Jeanette Del Santo some 18 months ago, their specific aim is to offer help to young women in their progress through life.
With her background Lana is happy to be of assistance. Coming from a family environment that would be the envy of many and telling of her experiences along the road to success, could be beneficial to some young lady in need of help.
''On the one day of the week I have off from training I go to my favorite coffee lounge order the most scrumptious burger in town sit back and enjoy the Noosa lifestyle; a lifestyle that I love." A small pleasure well-earned for a great young lady.