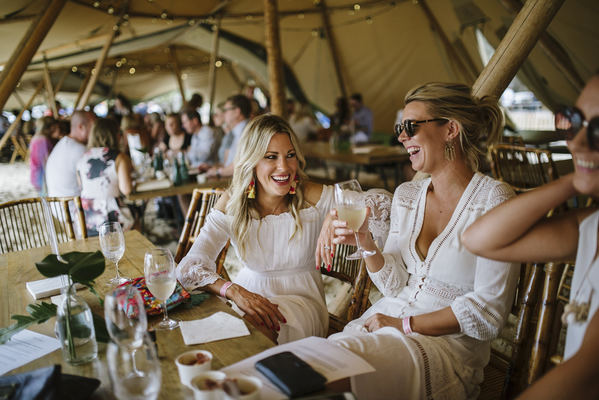 By Hollie Harris
Today kicks one of our favourite times of year – The Noosa Food & Wine Festival! There are few tickets left, so jump online at www.noosafoodandwine.com.au and grab them before they go.
Friday night 7pm don't miss XO Retro. Perched at the top of the bustling village of Sunshine Beach, Embassy XO is an elegant hidden gem with an award-winning wine list and menu. 4 delicious courses of modern Asian at its best. Each course will be matched beautifully with premium wines from Clairault/Streiker Estate. XO's 2018 Retro 4 course dinner will be one tasty event you won't want to miss!
Or try taking on a Masterclass – Billecart-Salmon Champagne and caviar matched to perfection! Three exquisite varieties of caviar matched to three varieties of Billecart-Salmon Champagne in the intimate surrounds of the Rumba Wine Bar at Sails Restaurant at Friday 5pm.
Saturday and Sunday is all about the Festival Village. Tickets are $35 now or $40 at the gate. Included in your Festival Village Pass is Entry to the Festival Village, Entry to the Pimm's Garden Party, Access to the Chef's Skills Table, Taste of Noosa, Entry to the Courier Mail Producers Pavilion, Entry to the Asahi Super Dry, Craft Beer & Cider Corner, Live Cooking Demonstrations, Live Music, Complimentary Festival stemless wine polycarb glass, Complimentary glass of wine by Xanadu Margaret River or tasting of Asahi Soukai each day from 10am to 3pm for customers aged 18 and over. Tickets at www.noosafoodandwine.com.au
Delicious food from Noosa Restaurants including Acuri, Boardwalk Bistro on Hastings, Embassy XO, View by Matt Golinski, Sum Yung Guys, Padre Coffee and Village Bicycle.
Some of Australia's best wineries will be in the Festival Village, together with Asahi Super Dry, the 2018 Festival welcomes a craft beer and cider corner with some of the region's best craft brewers in action. Beers and cider include Asahi Super Dry, 4 Pines Brewing Co, Balter Brewing, Brick Lane Brewing Co, Eumundi Brewery, Hawkers Beer and Stone & Wood.
Meet some of the finest artisan producers from the Noosa region and around Australia and enjoy samples and the opportunity to purchase their products. The Courier Mail Producers Pavilion will include a range of producers including: Bare Nuts, Big Heart Bamboo, Brookies Gin, Buderim Ginger & Nutworks, Cobram Estate, Coyo Yoghurt, Gympie Gold Regional Produce, Happy Pops, Hum Honey, Kenilworth Cheese, Kokedama, Kokopod, Meredith Dairies, Padre Coffee, Pomodoras Balsamic Dressings & Walter's Artisan Produce, Social T Green tea, Ugly Duck Preserves, Voodoo Bacon and Woombye Cheese.
The Producers Pavilion will also feature the Chef's Skills Table MC'd by Queensland Taste Editor, Anooska Tucker-Evans. The Chef's Skills Table sessions feature a range of chefs including Colin Fassnidge, Matt Wilkinson, Miguel Maestre, Kirsten Tibballs, Alanna Sapwell, Adam D'Sylva, Zack Furst, Brendon Barker, Charley Snadden-Wilson, Jordan Toft and Will and Steve from the Butcher and the Farmer.
Olsson's Salts are presenting an interesting range of masterclasses from some of Australia's best chefs, producers and winemakers. These exclusive masterclasses are a ticketed item and are only accessible with Festival Village tickets.
There are loads of other Masterclasses on across the Saturday and Sunday in the Village to choose from as well.
Some of Australia best chefs will present cooking demos on the Main Stage including Miguel Maestre, Colin Fassnidge, Matt Sinclair, Paul Carmichael, Alessandro Pavoni, Giovanni Pilu, Matt Golinksi, Matt Stone, Zack Furst, Jo Barrett and Matt Wilkinson.
Located in the heart of the Festival Village under the beautiful Sperry Tent, the Pimm's Garden Party is everything you would expect from Pimm's. A stylish space complete with various seating options (the perfect zone to people watch) and of course delicious drinks from Pimm's!
Enjoy a line-up of performers across two stages from early afternoon through
to dusk, including DJs and bands Tijuana Cartel, Koi Boys, Funk N Stuff, The Most and more.
THE ESSENTIALS
The Festival Village will open Saturday 19 and Sunday 20 May from 10am – 8pm.
The Festival Village is an all-weather event
Getting to the Festival Village is easy – thanks to the Noosa Food & Wine Festival Bus roaming between 9.30am and 8.30pm from the Noosa Transit Centre and The J in Noosa Junction to the Noosa Lions Park every half hour!
The Festival Village is a cashless event so bring your debit card, credit card, phone (with mobile wallet enabled) and get ready to 'tap & go'. Every restaurant, winery and producer will only take payment with a Visa, MasterCard or Amex debit or credit card or your smart phone with 'tap & go' functionality.